21 Aug 2019 / CS:GO
Welcome the talent lineup for StarLadder Major Berlin 2019!
The most important tournament of this season deserves the best coverage! For that reason, we have invited a team of professionals that will commentate and analyze matches at StarLadder Major Berlin 2019, creating an unforgettable show for every viewer on the official broadcast.
The analyst desk for the next Major will be hosted by Tres "stunna" Saranthus and Alex "Machine" Richardson. There, they will be joined by former professional players: SPUNJ, [email protected], and Pimp.
Beside DDK and JZFB, who were previously hired for the Regional Minors, the talent team now has new names: HenryG, Sadokist, Anders, moses, Hugo, and Harry. Also, just like it was at the Minors, interviews with the players will be conducted by Smix and James Banks.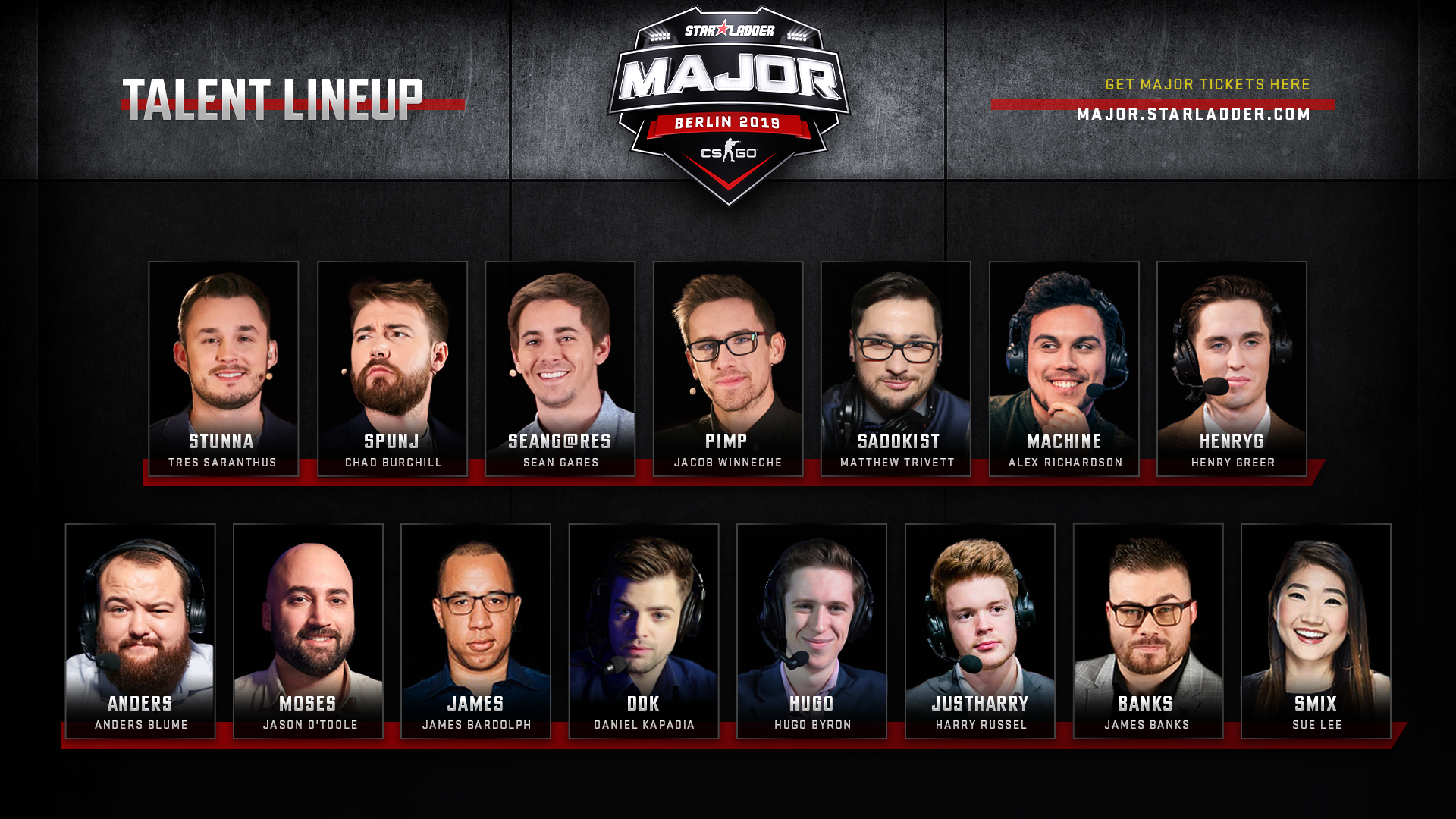 The list of talents for the English broadcast of StarLadder Major Berlin 2019:
We are also ready to unveil the list of talents who will be working on the Russian broadcast of StarLadder Major Berlin 2019. There, apart from well-known StarLadder's commentators and analysts, you will see a few invited personalities, like ceh9, hooch and bondik.
The list of observers for the official broadcast of StarLadder Major Berlin 2019:
• Egor «focuzz» Sineokiy
• Maksym «Sima» Soloviov
• Arsenii «SHAD3RR» Zakharov
StarLadder Major Berlin 2019 is scheduled for August 23 - September 8 and set to be held in three phases: New Challengers, New Legends, and New Champions (Playoffs). Here you can find a full schedule of stages and other important details of the event.
TICKETS FOR CHALLENGERS AND LEGENDS STAGES
TICKETS FOR THE NEW CHAMPIONS STAGE (PLAYOFFS)
Subscribe to StarLadder CS:GO on Facebook and Twitter to follow the latest news on the Berlin Major!