30 Aug 2019 / CS:GO
ENCE, NRG advance to The New Champions Stage
ENCE Esports and NRG Esports are the first two teams to qualify for The New Champions Stage of StarLadder Major Berlin 2019, as they made it through the Swiss Group with a clean 3W-0L record.
allu's ENCE is through to
The New Champions Stage
The first ticket to the Playoffs in Mercedes-Benz Arena was given away in an advancement match between ENCE and Team Vitality. The Finnish squad got a convincing 2-0 victory (16-10 Nuke, 16-7 Dust II), being powered by a fantastic performance of Aleksi "allu" Jalli who averaged a 1.74 KDR (55-26 K-D) and 117.3 ADR.
NRG Esports followed the suit and took down Astralis to proceed to The New Champions Stage. NRG managed to beat the Danes on Train in the fifth OT 31-28 and crushed them on Nuke 16-3 after picking up 12 rounds on the CT side. The most valuable player of this match was Peter "stanislaw" Jarguz, who left the server with 1.36 KDR (68-45 K-D) and 94.8 ADR.
On the other side of the bracket, Ninjas in Pyjamas and DreamEaters were handed their third consecutive loss, respectively, and were eliminated in the last 15-16th place. NiP lost to North scoring only 12 rounds across two maps (8-16 Train, 4-16 Dust II), while DreamEaters were defeated by Renegades (10-16 Mirage, 8-16 Train).
The teams who are now a win away from reaching the Playoffs as they are in the 2-1 pool, are CR4ZY, G2 Esports, Team Vitality, AVANGAR, mousesports, and Astralis. On the other hand, looking at the 1-2 pool where participants would have to fight for a tournament life, we have MiBR, Team Liquid, FaZe Clan, Natus Vincere, North, and Renegades.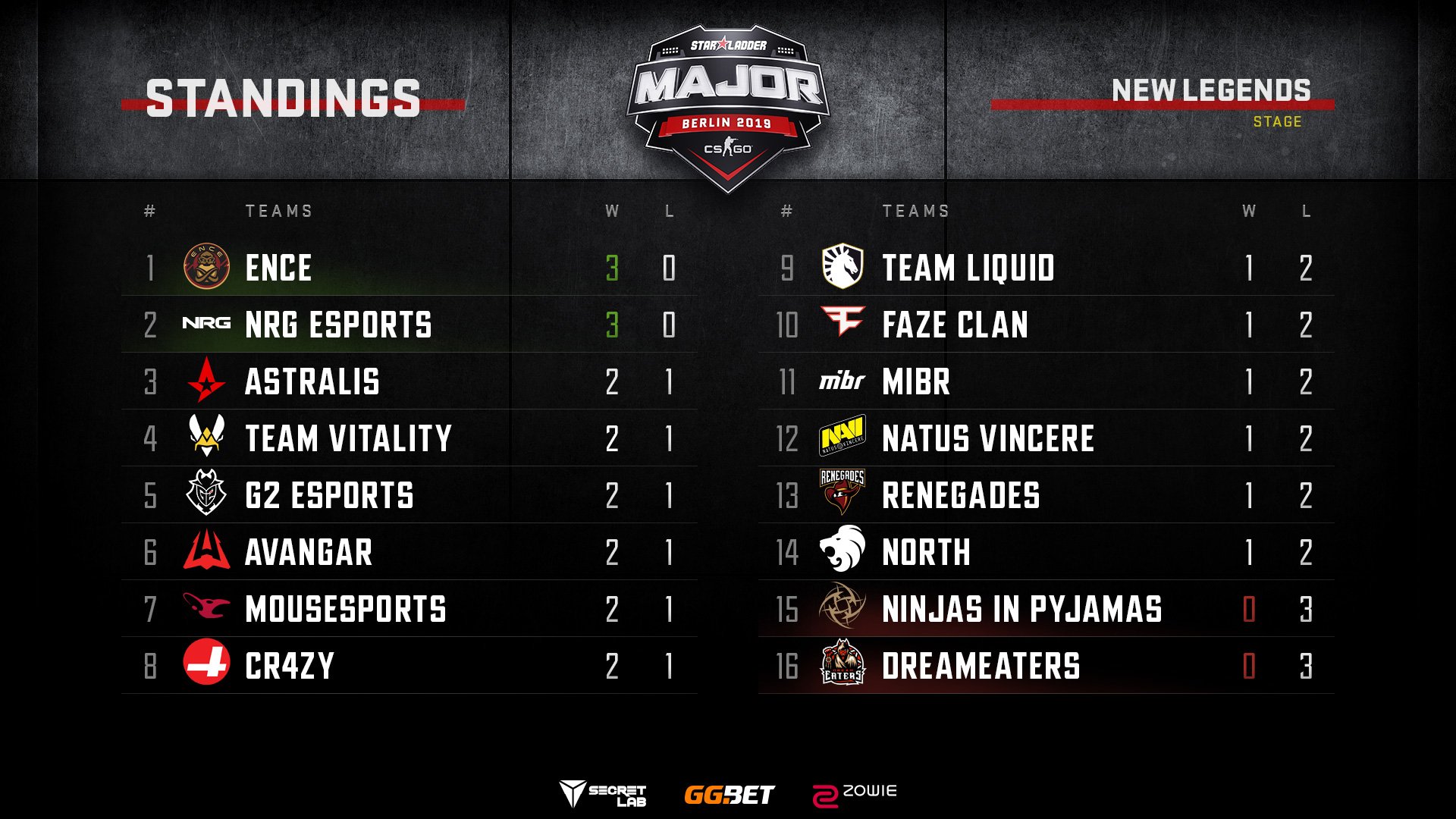 The draw and schedule of the matches for Round 4 of
The New Legends Stage
(CEST is stated, August 31)
• 12:00 — MiBR vs. Natus Vincere | 1-2 Pool | Round 4 | BO3
• 12:00 — G2 Esports vs. AVANGAR | 2-1 Pool | Round 4 | BO3
• 15:15 — FaZe Clan vs. Renegades | 1-2 Pool | Round 4 | BO3
• 15:15 — Team Vitality vs. mousesports | 2-1 Pool | Round 4 | BO3
• 18:30 — Team Liquid vs. North | 1-2 Pool | Round 4 | BO3
• 18:30 — Astralis vs. CR4ZY | 2-1 Pool | Round 4 | BO3

Subscribe to StarLadder CS:GO on Facebook and Twitter to follow the news on StarLadder Major Berlin 2019!