12 Jul 2021 / CS:GO
StarLadder CIS RMR beats all records for CIS RMR events twice
The StarLadder CIS RMR brought a lot with it, including incredible competitive action and great entertainment. In its wake, it broke massive viewership records and scored the highest statistics among all CIS RMR events in 2020 and 2021, according to escharts.com.
Most of the StarLadder CIS RMR viewership came from playoffs, peaking at 331,181 viewers in the Grand Final match between NAVI and Gambit. Compared to other RMR events, the peak viewership received a 70% increase in concurrent watching fans. Subsequently, the average viewership at StarLadder CIS RMR was 76,779, meaning a massive 73% climb from the overall average viewership among CIS RMR events in 2020 and 2021: WePlay! Clutch Island, IEM XV New York Online: CIS, and EPIC CIS League Spring 2021.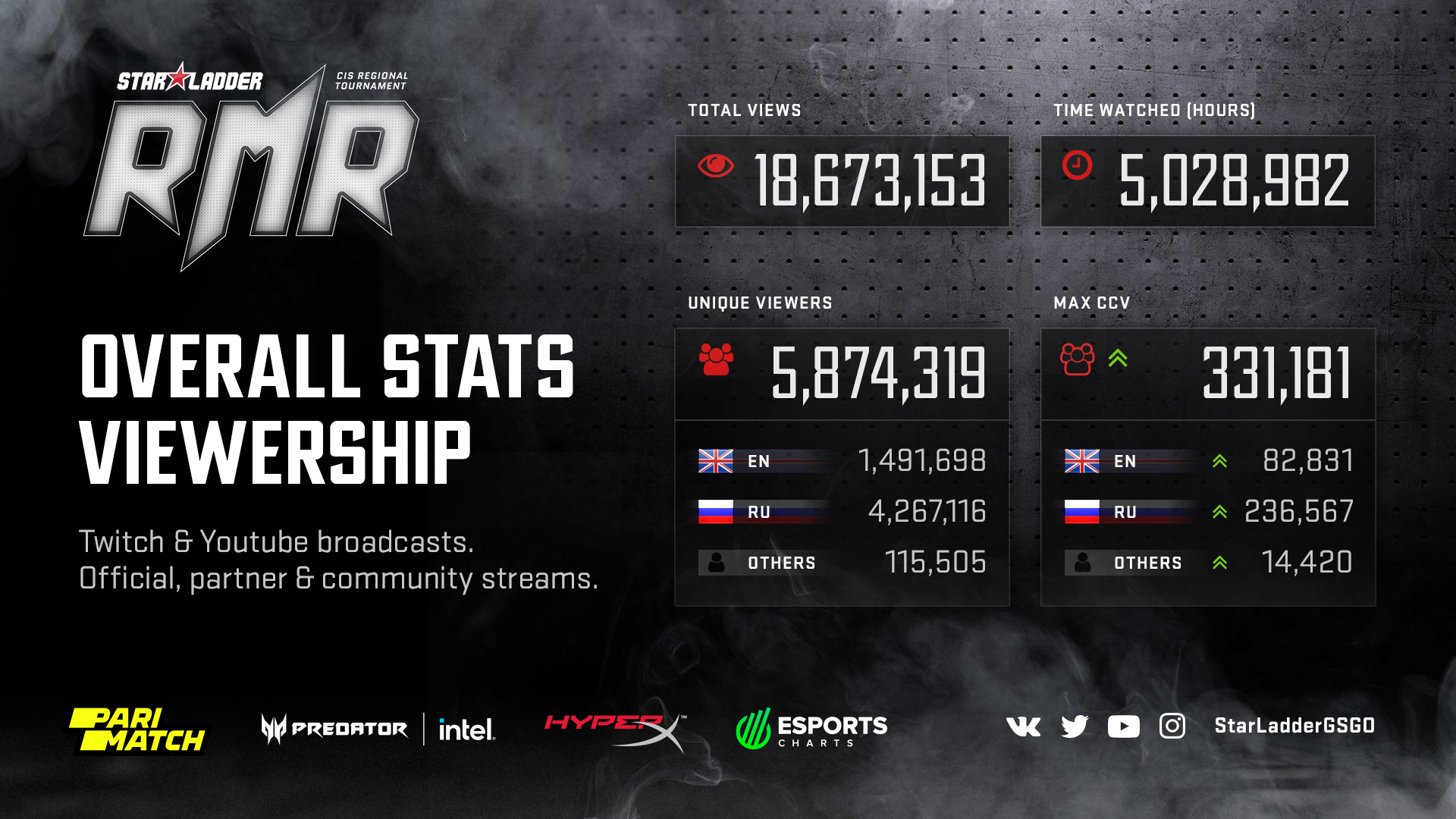 Comparing with European and US RMR events, StarLadder CIS RMR feels comfortable, beating almost oll of them, like cs_summit 6 North America, cs_summit 6 Europe, cs_summit 8, and DreamHack Open Fall 2020. The only RMR event that showed higher metrics was Flashpoint Season 3, with 100 560 average viewership, and still with lower peak views.
StarLadder CIS RMR was 66 hours in the air and was broadcaster in 9 languages, where English and Russian broadcast has made more than 92% of all views. This viewership statistic puts the StarLadder CIS RMR on a high level of viewers' interest thanks to top-tier teams' performance and perfect broadcast quality.
Follow the StarLadder CS:GO on StarLadder.com and on our social networks Facebook and Twitter.