1 May 2020 / PUBG
PUBG esports returns to Europe with PCS Charity Showdown
01/05/20 UPDATE:
Following community feedback, the Europe West Open Qualifiers will now be played from May 4-11. We believe that this schedule shift best supports the PUBG esports ecosystem in Europe by allowing potential competitors to focus on ongoing events such as the DreamHack PUBG Showdown.
This means that we're extending PCS Europe Charity Showdown signups for all Europe regions until this Sunday, May 3. Still searching for that final squad mate? Now's the time to rally your roster and register your place here: https://pubgesports.eu/en/
PUBG esports is back.
Next month, the Europe region's top rosters will battle it out at the PUBG Continental Series (PCS) Europe Charity Showdown – an online, open qualifying event with $100,000 USD on the line.
And that's not all. PUBG will also donate a further $100,000 to a charity selected by the tournament winner!
After cancelling PGS Berlin due to COVID-19 concerns, we're excited to announce this top-tier tournament and can't wait to see Europe's best rosters back where they belong: the battleground.

Who will be competing?
When creating this tournament, we knew we wanted to host the biggest and best. So we got to work building a format that would allow us to pit Europe's top sides against one another.
That's why we are delighted to confirm that PUBG giants FaZe Clan, Team Liquid, Natus Vincere, TSM, ENCE, and Raise Your Edge Gaming will be competing at all three PCS events in 2020.
At the PCS Charity Showdown, they'll be joined by WTSG*, Northern Lights Team, Adepts, Tornado Energy and Omaken Sports who earned places off the back of their impressive displays at the PGS Berlin: Europe Qualifier finals.
And this is where it gets really interesting. We'll once again be filling the last 14 spots through open qualifiers, giving skilled challengers and lesser known squads alike the chance to burst onto the scene and make their mark.
If you think your roster has got what it takes, registration for the Showdown is now open at www.pubgesports.eu. See below for qualifier dates, and make sure you sign up by Friday, 3 May.
How does it work?
A total of 24 teams, 10 directly invited and 14 from open qualifiers, will lock horns in the tournament group stages which take place on 15-17 May and 22-24 May. The best performing 16 sides will then progress to the PCS Europe Charity Showdown Grand Finals from 29-31 May to battle it out for the $100,000 USD prize pot. As ever, fans can watch all the action on: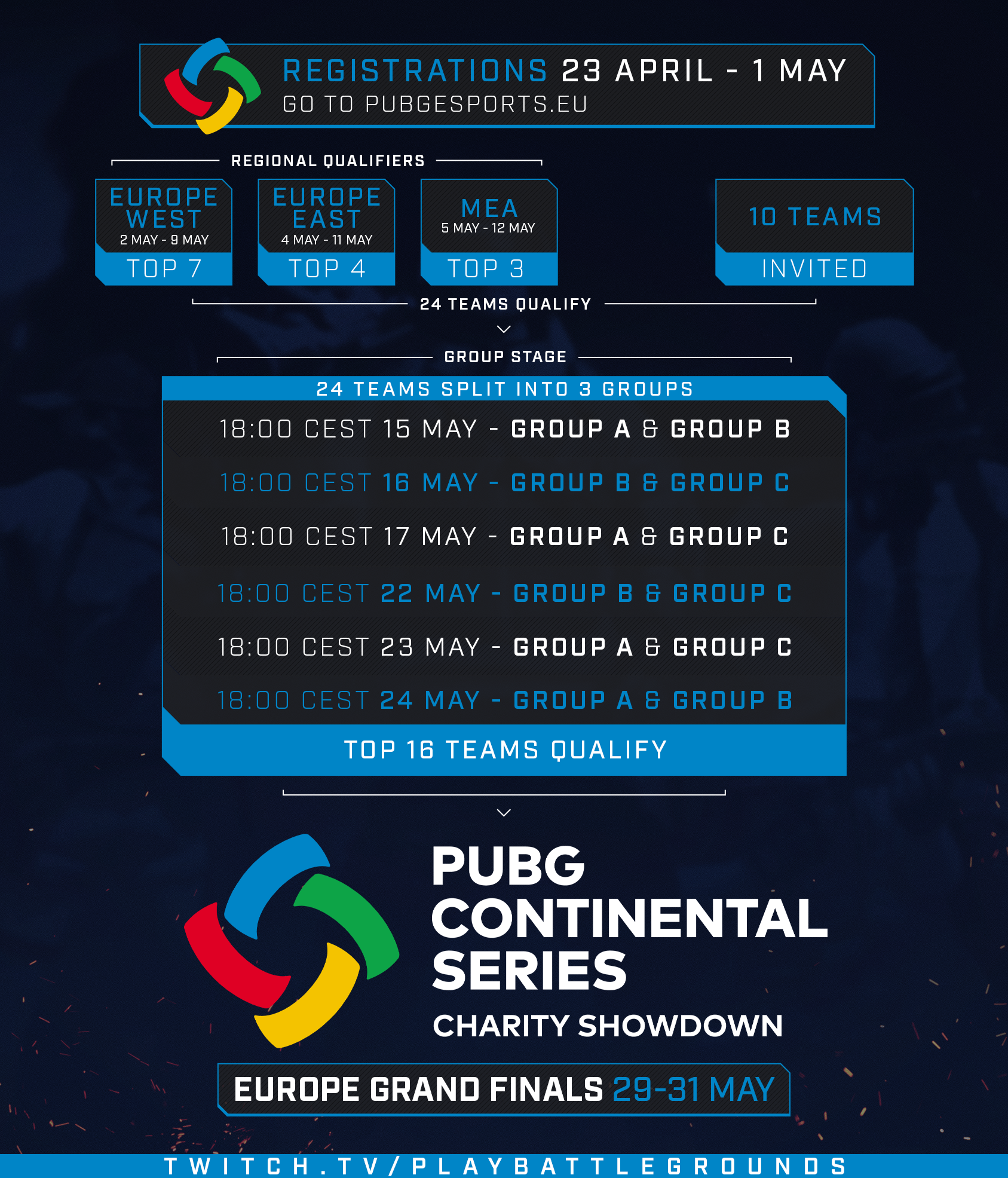 Rewarding Europe's PGS Berlin qualifiers
Despite PGS Berlin being cancelled, PUBG is honouring its financial commitments to rosters and awarding $20,000 USD to the six teams who qualified from the PGS Berlin: Europe Qualifier finals — as well as Faze Clan who qualified after their top 4 finish at PGS 2019.
The qualifier finals set an incredibly strong benchmark for competitive PUBG in the region. There were several standout performances, from Natus Vincere's dominant final day to ENCE's stunning comeback, and with FaZe Clan back on the scene the stage is now set for what is going to be one of the highlights of the season.
We cannot wait.
*TSM picked up the WTSG roster on April 24. Their slot in the PCS Group Stage will be assigned to the Europe West Open Qualifier region.