13 Sep 2019 / CS:GO
Thorin: "Eventually, there has to be a Major in Moscow, Saint Petersburg, or Kiev"
On the final day of StarLadder Major Berlin 2019, we sat down with Duncan "Thorin" Shields, also known as "The Esports Historian", to discuss a variety of topics regarding the Berlin event and the teams who were taking part in it.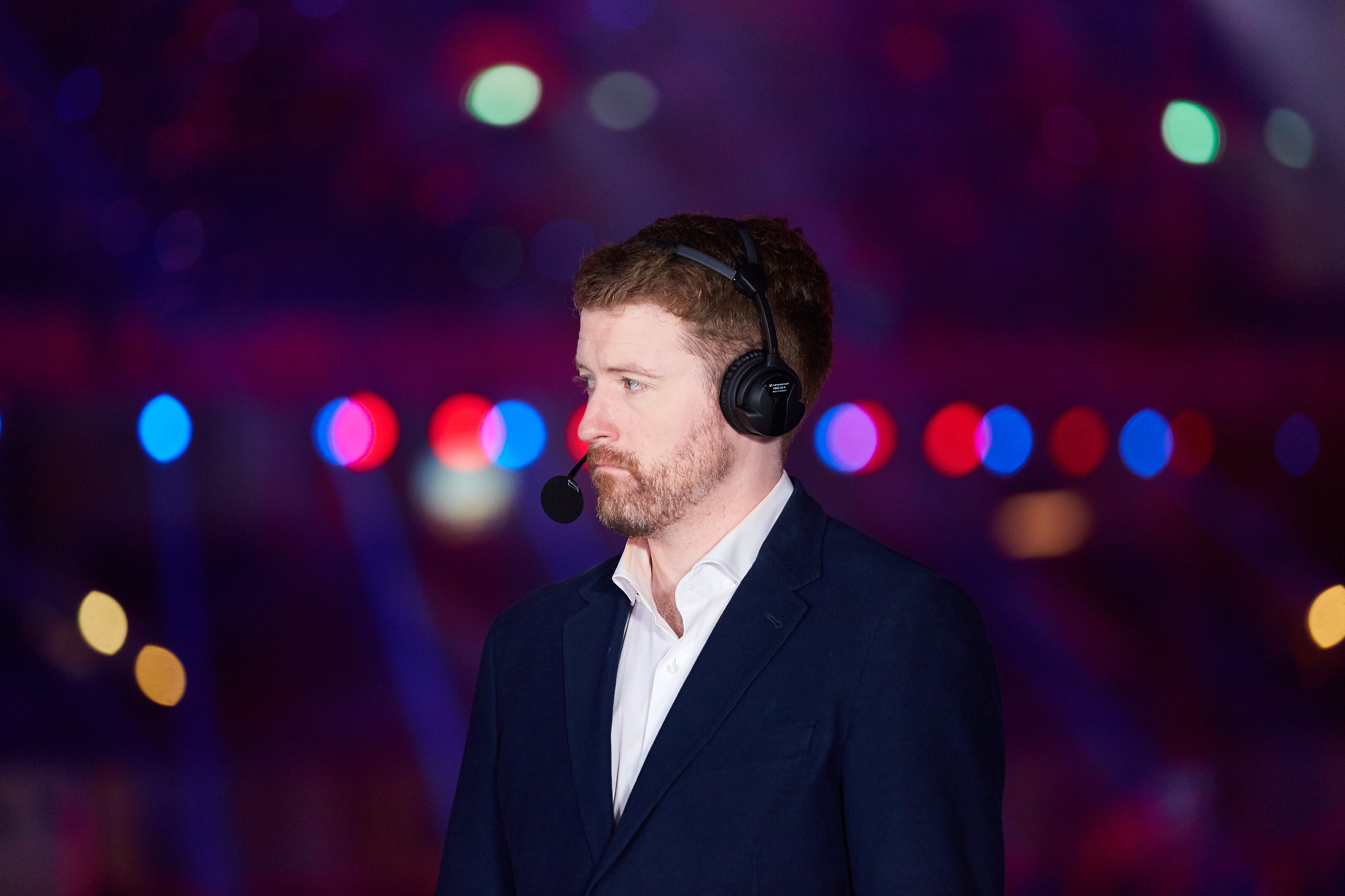 Thorin was a part of the broadcast team at
StarLadder Major Berlin 2019
The British journalist gave us his thoughts on how the Major was organized, how good the location was, how the teams performed, etc. Other than that, Duncan discussed with us the recent changes in Team Vitality, how Astralis managed to improve their level of play, whether Team Liquid will suffer from losing the chance to win a Major, would he become a GM in an esport organization, and more.
To start this interview, let's discuss this Major overall. Many people think that this Major is the most competitive Major ever. Stewie agreed with that in his interview, zonic said that it's the hardest Major ever, etc. Do you share that sentiment?
I do, but the problem with that is… The hardest Major is probably a good way to describe it. It's very very difficult for all the teams. But if you want to say that it's the most competitive Major, the problem I have with that is I want it to be competitive in a way where everyone is amazing and everyone is at the highest level. I do think that if you look at the fact that because of how the players decide when they have their break and how Valve decides when the Majors get to be, that's why it was so close between all the teams in it. A team like AVANGAR, who no one thought would be in the Playoffs, went to the final, and it's because we had this big break before. We had the summer with all these amazing tournaments, you saw certain teams consistently at the top, and then they come to this tournament - Vitality, ENCE, Team Liquid - and none of them even hit the semifinals.
Unfortunately, the player break reset people's level a little bit. To me, that's why, for example, a team like Astralis is in the final now. They are best at preparation. If you give everyone time off, Astralis will make better use of it. But if you had to play tournaments right before coming into this one, I think some of the teams you expected to win would have done better.
As you mentioned Astralis, do you think that they are really back? Maybe their success here is based on the fact that the teams just came back from the player break?
Not entirely. I would say a part of it, though. If you look at where they played at this tournament, they outright lost to NRG in the previous phase - NRG even smashed them on Nuke and beat them in the Train game - then, they played against CR4ZY and they almost lost two maps. They were in trouble, actually. They showed that they had some flaws, which is a bit like when they came back in the summer. They weren't beating the top teams. They would play them close and they would lose to NRG, lose to Team Liquid, but they would beat NiP and some other bad teams that no one cares about.
I do think that they've got better, but that also makes perfect sense. When they had a little break a few months ago and came back to the tournaments -- it takes time to get your form back. I think that Astralis is on their way back, but I don't think... I remember them being a dominant team, the one that won IEM Katowice and everything last year. They were at an even higher level than this. Even individually, I think you saw that players like gla1ve and Xyp9x were at a higher level. Everyone was at his peak, basically, and that's why they were the best ever.
I think they are on their way back there. I won't say they got lucky because the break affected everyone, but I think it helped them at this Major because it made their rivals a little bit weaker. I put them at the same level, but with things like having experience at the Majors and not getting nervous on stage, that can help you win a game with very very close margins.
I saw one of your recent tweets where you touched upon the topic of "What If Situations". There, you mentioned that Astralis should have defeated Gambit at the Krakow Major, but they also should have lost to Virtus.pro at ELEAGUE Atlanta. Given the fact that Astralis were the favourites in Atlanta, why do you think so?
If you just look at the way the game against Virtus.pro went, they were down something like 6-13 on the final map. They were on the Terrorist side of Train, which is harder to win from, there was a round when they all had Tec-9s in a force-buy, Virtus.pro had all guns... My point that I was making there is I like "What If". I like "What if this happens". It's cool, it's like a Sci-Fi story. It's fun to think about, but you shouldn't actually take it as if it did happen. What did happen is what happened, you have to accept that.
Playing the "should" game is fun as a thought exercise but Carrie's little weight in reality. Should Astralis have beaten Gambit in Krakow? Sure, but they should have lost to VP in the decider of Atlanta.#berlinmajor

— Thorin (@Thooorin) September 8, 2019

If you are an Astralis fan and you think to yourself, "Ah, AdreN should not even have won the Major, we should have beaten them in Krakow", -- yes, they were the favourites in that match, they were actually in the lead on the third map, so it was kind of fitting, but the same thing happened in reverse. What I'm saying to that fan is, "Okay, I will give you that. You get to have that Krakow championship, but you have to give me back the Atlanta Major. Give me back this and that". That's the point, there is a million of "What Ifs".
One of the greatest Counter-Strike players ever was a Swedish player called Potti. He used to play with HeatoN in SK and NiP. Whenever I used to ask all the pro players "Is he the best player?", - he was so amazing in clutch-rounds (1v2, 1v3), it's almost like he could read the other guy's mind - they would always tell me these stories, like "Yeah, he is really good, but we should have beaten them at that time. He had 1 HP, he was behind that box and I fired but got unlucky". Then, I used to tell them, "Just take a number and join the queue", because that queue with people who have excuses like that is huge. You all got your excuses while he just got the championships. He doesn't need to argue, he doesn't need to go through "What Ifs", he just has the world championships. You don't have to argue when you have those.
What do you think about the location of this Major? Is it good for the fans, how impressive the venue is, etc.
Interestingly, even though I've been in esports for a long time, I have actually never been to Berlin. I've been to Cologne a million times, - ESL is there, I also used to work for SK Gaming that is based there - but I've never been to Berlin before. Everyone who is German would tell me that Berlin is the best spot, it is supposed to be better than Cologne. I would agree overall, it seems like a pretty cool place.
I actually think that's probably the thing that is the most underrated about this Major. People blamed StarLadder for some issues, but what no one notices - because they are not at the event - is if you are in the venue and you see the stage set-up, it's one of the best stages I've ever seen in esports. It reminds me of The International. The stage is amazing, it has those big booths, the augmented reality stuff, the lights, etc. I even think that those guys with guitars are сool. I don't know if I would pick it, but it's an unusual thing and it makes it pretty hype. I would guess that for a fan who came to the arena, it's one of the best Majors we have had.
You've been working with StarLadder for a very long time. What do you think is the difference between how StarLadder used to run its events and how it runs them now?
The biggest area where StarLadder always has had an advantage over all the other tournament organizers is that they've been the most willing to change the format, the structure how you set a tournament up. If you remember, in the early days of CS:GO StarLadder always did four-team tournaments on LAN with a double-elimination bracket. At the time, no one ran a double-elimination event, so it was a way to make yourself unique. Back then, everyone else would just use a single-elimination bracket as we do now at the Majors. Later, when people did the GSL groups, StarLadder applied the Swiss System for all its tournaments, and it was only the ESL Majors at the time that were doing it. They made all their tournaments have that. If you notice, there are some pros who think that Swiss System BO3 is actually the best format.
I think that making yourself different is always a clever idea in business unless you are already considered #1. If someone else is different and you copy them, you would just be #2. If you do it completely different, you can find your own success. Maybe you can become #1 in a different way as you revolutionize.
Let's talk about the teams who attended this Major. Who did surprise or disappoint you?
I will start at the top. I think the most disappointing team has to be Vitality. People are still saying, "Oh, but they still did okay in the last phase!". First of all, the very very first phase, The New Challengers Stage, was the one where they almost went out of the tournament by losing to a team from Australia that is not called Renegades. They almost lost a BO3 against the Grayhound team. It's disgraceful considering how good they were in the summer, they were the #2 team in the world. Then, they got to the next phase, and even though they got through, people forget that they were beaten 0-2 by ENCE. In the summer, they would always beat ENCE. This is the team that they had in their back pocket. Then, they came to the Playoffs. If you are the #2 team in the world and you get a Playoff draw where you have to face AVANGAR - a team that nobody even thought is good - ENCE - which was already dead because they were kicking their in-game leader - and Renegades - they never did anything - you are supposed to go to the final at minimum. Minimum! They didn't even get out of the first round of the Playoffs. I can give an excuse for some other teams, but there is no excuse for Vitality. That was just a disgraceful performance. I think they are the biggest disappointment.
Another one that I'd probably pick out is Na'Vi. Before the Major, they played only one tournament with Boombl4, ESL One Cologne 2019, and they looked pretty decent there. They didn't show their best, but it was their first tournament where they could see if they would build on that, get better, etc. A lot of us thought that Na'Vi should be a surprise pick to win the Major. Maybe they could do amazing, get to the final, or maybe they could beat Team Liquid or Astralis. It was not impossible after the player break. But the big problem is that this is the one time where s1mple didn't turn up and just carry the whole game. I actually think they should not have been in the Playoffs. The only reason they were is because electronic was amazing up to the Playoffs, he was carrying them so hard. Even then, they had to go into that last round where they could have been eliminated.
I guess I will take s1mple as my biggest disappointment. He is the best player ever, but he didn't show up at this Major. If he did turn up -- this is the time when he had some help. It's like Batman and Robin. He had a sidekick, but he didn't do it himself, so it was just Robin here.
Speaking about Vitality, they just benched NBK following their exit from this Major. Do you think it's a good decision in their situation? Does it have the potential to be a positive change for the team?
I think it's a tough one. I suspect the part why they removed him - they even hinted at that in their statement - is not about his play in the server, it's about what his role was within the team. Maybe it was communication, dynamic within the team, who does what job, etc. They purposely said in their statement that there were too many in-game leaders.
If you remember, the whole reason the Vitality team exists is because when NBK was in G2, he thought that he should be the in-game leader and not shox. As a result, G2 did those two teams: they let NBK have a team for a couple of events, but then they switched to the shox and Ex6TenZ team so NBK was benched. He left G2, he made Vitality, and it supposed to be his chance to show that he is a good in-game leader. The problem is, he failed. If you look at when he was the in-game leader, that's when Vitality was not a very good team. If you look at when ALEX took over and started calling on most of the maps, that's when they became the #2 team in the world. Unfortunately, I think that at this point of his career NBK doesn't want to be just a player. He wants to have influence on how his team runs, the direction of it, and maybe even who they recruit and kick out. In that sense, I can kind of understand why they removed him.
I don't know if I personally would remove him -- I will tell you right now, I'm biased. I'm friends with him, I've known him for a very long time, I've talked to him a lot about the game, and I do think that he is a very smart player. He is a winner, basically. I think that to be a winner, a core element that people miss is that you have to be ruthless. If you a winner, even if your best friend plays on a team with you and he is playing badly, you have to be able to say "you are fired". You would need to be able to bring a guy who you don't even know, not even a friend of yours. Sometimes, in fact, a guy who you might even hate, but you have to do it if it means that you will win if he comes in. NBK has that, actually. Within the French scene, there are not many players like him. Now, Vitality is playing with RpK. Yes, RpK was cool 10 years ago, but it's not CS: Source anymore. I don't care about him in CS:GO, he is just an average player. Look at G2, they were playing with SmithZz last year. He had been terrible for a long time, but he was there because he is shox's friend. I like people who have that killer instinct like FalleN and NBK, they are a great example. These are the guys who eventually will be followed by success. I'm very interested in what comes next for NBK. He said in his statement he is going to go elsewhere and make an international team. I would love to see what happens next.
If he creates an international team and decided to be an in-game leader, do you think it might backfire him again in the long run?
By the way, I don't think he should be an in-game leader. This is one area we have a disagreement at. You might have even seen it on Twitter, I flamed him a few times for that reason.
In my opinion, there are two types of intelligence in Counter-Strike. Another great example is shox, he tried to do the same thing. Someone like shox, or NiKo, or NBK -- as players, when they just have to only control their own mouse and look at their screen, they are geniuses. They know everything about the game. It's almost like they don't even have to think, the game just speaks to them. They know how to play in any situation, how to play clutches right, to play a teammate, etc. However, that's different from being an in-game leader. Being an in-game leader is about being able to stop, using your brain, planning very consciously: what would happen if I did this, what's the big gameplan, and so on. It's a very different type of intelligence. If you notice, when those players try to be in-game leaders - because they are smart about the game and they know how they should play - they struggle to understand how a worse player should play, or how to lead a guy who is a star player but doesn't think properly so he doesn't know what to do. They don't know how to tell them what to do. To them, they sort of think, "Doesn't everyone just know what to do? It's obvious, right?". When they become in-game leaders, not only they don't do a great job as in-game leaders, their own individual game also gets worse. You see with players like shox that it can take a long time to get out of that and become a star player again.
What do you think about the possibility of shox joining the Vitality roster? Not as an in-game leader but as a player who would perform under the leadership of ALEX?
The problem is that I'm very biased on this one. I don't even know shox that well as a person, but I'm a massive fanboy of his game. When he was at his peak, he was one of the best players to ever play the game. Everything he did was so brilliant. Even though I don't think that he has been a good player for the last two or three years in G2, if he could come to a new team and reinvent himself in any way and get back to that level, I think that would actually make them one of the best teams in the world. They've got ZywOo, he is already amazing - for how young he is, I think he is better than you should expect - but they need a second player like him. It's not going to be apEX. I've watched apEX his whole career. Because he is a hard entry, that's a very up-and-down position. It's like Qikert. You are not going to be the best player in the world doing that, you are going to get killed most of the times. They need another star in their team. At the moment, they haven't had it. Everyone else was just okay. I don't mind the gamble, I would pay to watch the team, but I just don't know how it is going to work.
According to the rumours, G2 is going to build an international team after this Major. Do you think that it's the trend that the French scene will eventually follow? They've built so many teams in the last few years, but none of them were able to become the real #1.
The problem with that is that I still think that they haven't properly looked at the two teams: G2 and Vitality. Say you give me $10 million and I can buy out contracts of these 10 players, I can make a superteam. I can make a team with ZywOo, kennyS, AMANEK, maybe I put apEX in there, NBK -- if I make this team, I think it can already win a Major. That's a way better team than Vitality or G2. Whatever metrics they are using - things like do they like the person, what's his attitude - they are using different metrics to judge players than I am. I'm just using them from a fan's perspective of who the good players are.
I don't think they have to [go international]. I think France can absolutely have an amazing team that could be the best in the world. But I do think that if you know much about the French scene, it's the most political scene in the whole world. It's all based on who likes who and many other weird things. For example, they wouldn't recruit this player over here because they played with him two years ago and he had a bad attitude. "But what's he like now? It doesn't matter, he's got a bad attitude". They have very stark black-and-white opinions and a very weird political dynamic within the scene.
I can sort of see why they try to go international. If you notice, they've cycled so many players in the French shuffles, so there is no one left to join these teams because they've already been on all the top teams. I get that logic. The problem is, I actually do think that they would suffer if they went internationally. One area that people don't notice is not just about speaking the same language, the cultural differences can be a big deal. They would not understand where they come from in the world, they would have different ways of seeing the world, different ways of solving problems, etc. To me, if you're making an international team, it's going to be really hard to cover all those angles. I think you would need the best coach in the world in this case.
You said that if you had the money, you would build a superstar team. Does it mean that you would be willing to take the job of a general manager? In my other interview, [email protected] told me that he would like to come back to the scene as a GM. Would you go for it if you had an offer?
If I didn't have my current set of jobs, it would a really cool idea. It's one of the most fun concepts to me. When I was a boy, one of my favourite PC games to play was Championship Manager. You make a team, you buy a player from another team, and the fun part is that you always try to find a player that doesn't cost much and no one thinks he is good, but he is secretly really good so you bring him to your team and you win the league. It's a really fun intellectual challenge.
In a different world, or maybe when I get bored with esports journalism, I would [take the job of a GM]. But the problem is that I'm actually very lucky that I do exactly the job I want to do. If you notice, I get to do some videos, some events -- I kind of get to do a bit of everything and it's really cool for me at the moment. For right now - no, but maybe one day... Maybe it would my retirement. I retire, become a boss who picks all the players, then maybe… Maybe I'm full of sh*t. Maybe I don't know anything about the game, maybe all my teams would fail and all the fans are right after all (laughs).
Beside working as an analyst, you also create content and do other things in the esports industry. The thing is, I remember that it was MonteCristo who tweeted out that analysts and commentators moving away from these jobs to pursue the other possibilities in esports. Is it because it's hard to make a living out of working as an esports talent?
You can make a really good living. All the people like MonteCristo -- if you knew the salary they are making, they are doing an amazing job with their careers. The problem is, because you get paid day-rate - you get paid for every day you are at an event - you have to work for nearly all the year. Yes, you get paid a lot, but you might work 200-300 days a year, which is probably too much.
As more top casters move into non-casting positions, I think you are seeing a problem across the industry with the career growth ceiling that casting offers.

Credit to LEC for elevating Quickshot to a position of creative direction. He's crushing it.

— MonteCristo (@MonteCristo) September 4, 2019

However, you can do a bit of everything as I do. I do some events, I do some content, and I do some written articles for different websites. Maybe you can consult companies. The good thing about that is that you have a lot of freedom. In fact, all these jobs, if you do them right, help the other jobs. Doing content keeps me relevant. When I do events, people know who I am, and because I've done some events, people might listen to my content. Because they've heard what I said in content, they might say, "Let's hire him to tell us how to build our next team for this NA organization". It all builds one into another.
I think it's just more about understanding the modern world. In the media world of the 21st century, it's not just about being great at your job. You have to market yourself, you have to make a brand that people know what it means and what it stands for. I think that some commentators are doing a good job in one field of commentary, but they haven't figured out that there has got to be more to your brand than just being the best Counter-Strike commentator, for example.
Let's talk about Team Liquid. It was undoubtedly the best team in the world before the break, but here they lost in the quarterfinals and were denied the Major title. How do you think this loss will be important to them and their overall legacy?
The thing that kills them is that if they won this event, they would still be on this course where they could become the best team ever. At the moment, they are on the course where they are the best team to never win a Major. That's not really that cool, you know which one you'd rather be out of these two.
The problem for them right now is that it's something like 200 days till the next Major and there are only a few teams that have ever been anywhere close to being the best for that long. It would be almost impossible itself. I think the one thing they have going for them is that the average age of the team is very young. They can still keep most of these players together and have a team as Astralis did. Change one player every couple of years, get back to the top again.
But yes, it will hurt a lot because there were only two tournaments where they didn't make the finals this year. Both were the Majors. Everyone will just say, "Yes, you won the other tournaments. Yes, you beat everyone. But when you were at the Major, you couldn't handle it. You choked, you didn't have the bravery to come through the big moment". That's something you have to get over if you want to be the greatest team. I would say that it's not just one tournament a year to all these players. Yes, you can win the next three events, but eventually you have to win a Major if you want to be thought of as the greatest.
Almost every huge TO in CS:GO has had the chance to host a Major. If you were Valve, what would you do next? Would it be changing the format of the Majors, or bringing a Major to Asia? Give me your thoughts.
I would actually say to tournament organizers that they have freedom as to how they choose a format. I would love it if one Major - it doesn't have to be all of them, just one - had a double-elimination bracket as it is at The International. Imagine how cool that would be! Imagine if at this tournament Team Liquid came thought the lower bracket and beat Astralis in the final. That would be so crazy, everyone would be so hyped just like at The International. It gives a different flavour to the Majors, it gives tournament organizers chances to be more successful because they do a different format and get rewarded for their innovation.
The other thing I think I would change, I would like to have more emphasis on the location being a more interesting place. I think that Berlin was a good choice, but I think, for example, two that come immediately to my mind are… I know this is StarLadder Major and because of the political situation it would be difficult to have a Major in Ukraine now, but in the future, if you look at for how long StarLadder has been involved and how much the CIS region has contributed to Counter-Strike, eventually there has to be a Major in Moscow, Saint Petersburg, or Kiev. It's almost owed to the game, in my opinion. It's been a big part of it. Another one, along similar lines -- let's have a Major in Denmark! The country has been pretty good in CS:GO. Can we have one of the Majors in Copenhagen? It's a very cool place to go. I've seen the stadium that they had at BLAST in Royal Arena, it could be an awesome Major if they did it there. I don't think we need to have another Major in Katowice. We've done it a few times already, they had their chance!
Thorin was interviewed by StarLadder's @EllanarkJesus