3 Mar 2020 / PUBG
The Underdogs: WinStreak15
In the second in our 'The Underdogs' series, WinStreak15's Maxim 'Maxiz0r' Tatarintsev looks ahead to the PGS Berlin: Europe Qualifier finals – and shares the secret to building a successful PUBG side.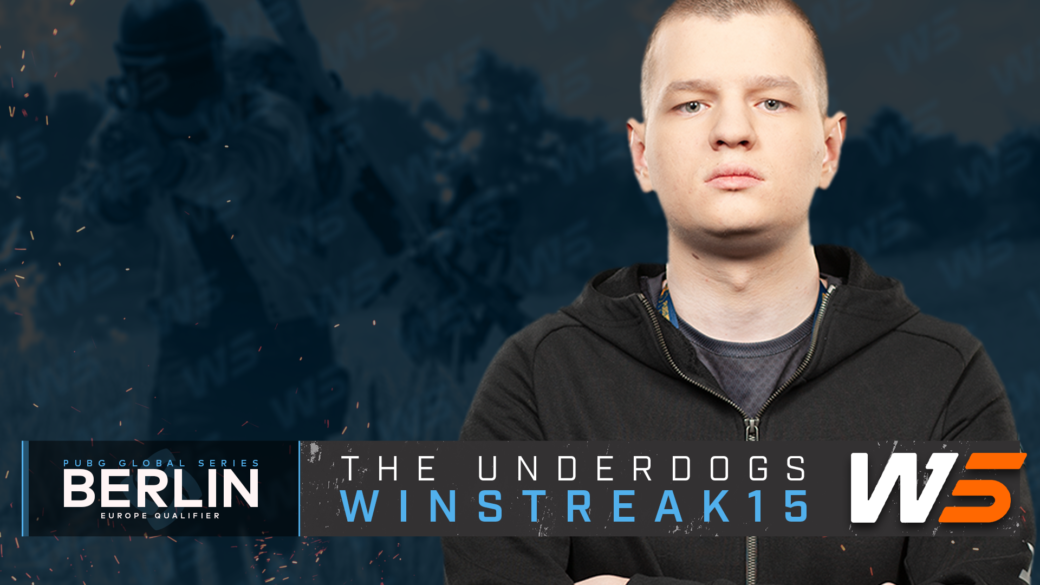 You had to take on a lot of skilled sides to progress to the qualifier finals, were you always confident that you would get through?
This was our first official tournament as a team, so it was always going to be tricky – and you can see that from our performance. We made a few mistakes in the group stage and weren't at our best. But we fixed that, and as the tournament went on we started to feel a lot more comfortable.
You finished with an impressive 28 kills at the Europe East closed qualifiers. You must have been happy with that performance?
Firstly, I think it's important to point out that it wasn't just me! My teammate Mikhail 'azverin' Naumenko made the same amount of kills and deserves a lot of credit for his performance.
I was of course happy with the kills, but it's a team game – and if it hadn't been me it would have been someone else. I guess I am just lucky that on that occasion it was me.
There's not long to go until the qualifier finals in Berlin, can you talk me through your training routine?
We're playing against a lot of teams who will be at the qualifier finals, and other sides – like FaZe Clan – who have already been invited to the main event. So, right now we are working out the best way to play against these teams and generally just keeping going – working hard so we can get better and better.
The beauty of PGS is that you can go from online qualifiers to playing the best teams in the region in the space of a few weeks. What advice would you give to players who want to start their own PUBG team?
For newcomers, my first piece of advice would be to watch as many streams as possible. All the top teams regularly stream on Twitch, and that can give you a really good insight into how they train, how they work together as a team and how they navigate the maps.
It's also important to find the strongest players possible to join your roster. As a new team, it is very unlikely that experienced PUBG players are going to want to play with you unfortunately. So you've got to work hard to find skilled teammates, and sometimes that can come down to luck.
What are the most important skills that a successful PUBG team needs?
You need four players who are capable of operating at the highest level. I am not talking about having basic skills like driving and shooting, I mean leadership qualities. People who can co-ordinate the team and feel the game. Essentially, you want four captains in your side, four people who really understand the game.
How do you rate your chances of progressing through to the main event?
It would be silly to say we are definitely going to qualify, for two members of our team this will be their first time playing at a PUBG LAN tournament. But of course, myself and 'azverin' will be on hand to support them.
And we are confident in our ability. We have to treat this like a regular game – if we can play like we did in the online qualifier then we will have a great chance.
What other plans do you have for 2020?
It's all about PGS for us this year. Next up is Berlin, and then we will look towards the second and third tournaments – and of course we want to qualify for the PUBG Global Championship.