28 Feb 2020 / PUBG
The Underdogs: Blaze Esports
In the first in a new series, profiling some of the 'underdogs' competing at the PGS Berlin: Europe Qualifier finals, we talk to Blaze Esports player Cihan 'rip9-' Haydari (first from the right) about the value of experience, representing Turkey – and his advice for anyone who wants to play PUBG competitively.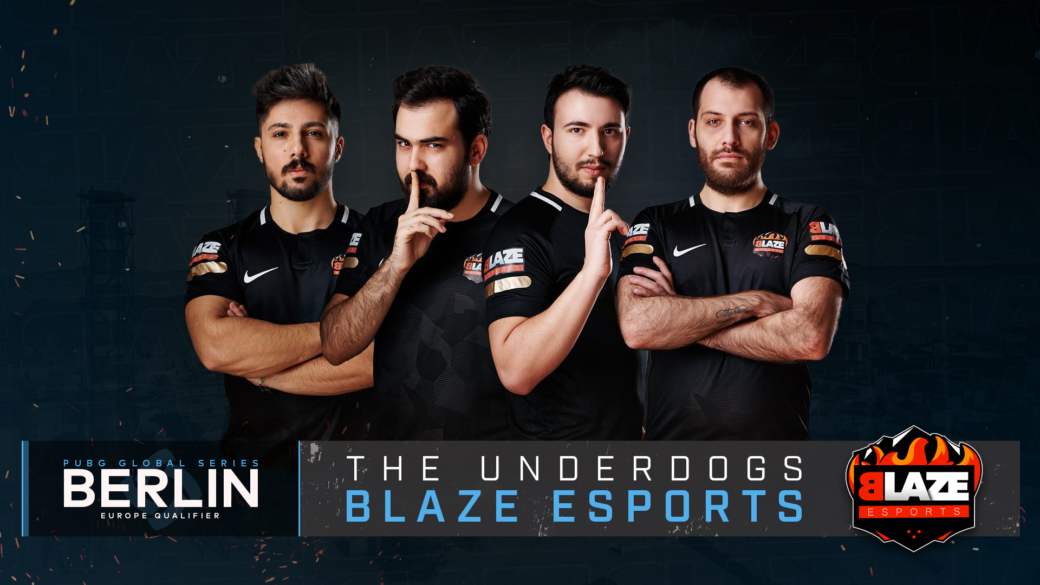 You've made it through to the PGS Berlin: Europe Qualifier finals, congratulations. Can you tell our readers a little about your team's background?
Thank you!
Blaze Esports was formed in Istanbul in July 2019. The founders had a simple mission: to create the best esports team in Turkey. So they went about assembling the most experienced and talented Turkish players and here we are.
You came through open qualifiers, battling for a place at PGS Berlin: Europe Qualifier finals along with 137 other sides. Did you believe from the start you would qualify?
We're a pretty experienced side, with all our players having played in PEL Contenders in the past. So, I think from the beginning we believed that we were going to qualify from the MEA region. There is a lot of talent here, so we were confident when we were on the battlefield.
Having said that, Berlin will be our first Local Area Network (LAN) tournament as a squad – so our goal is to finish in the top 10 out of the 24 teams. If we qualify for the main event it will be very surprising.
The beauty of PGS is that you can go from online qualifiers to playing the best teams in the regions in the space of a few weeks. What advice would you give to players who want to start their own PUBG team?
I am 26 years old which makes me a pretty experienced first-person shooter player. My advice is to train as hard as you can. It can sometimes be a bit boring, but if you love what you do then you won't quit – so you can become the best in the game.
It's also important to remember that your opponents will be training while you are not!
You just competed against some of the best teams in the region at the GLL EU regional finals. How was the experience for you?
It was a very tough tournament for us as we previously lost our teammate Smashbae to Digital Athletics and had to replace him.
I think as a team we need to practice more, because a lot of our competitors had played together for a long time and their chemistry was very good. Playing against them reminded us that we need to train more, and then, in time, we will get to their level.
The stakes couldn't be much higher. How do you make sure you deal with the pressure?
Honestly, we don't feel much pressure on us. It's only our first LAN tournament. Sure, people expect us to be successful, but things are different while playing on LAN.
Are you excited to be one of the only two Turkish teams at the PGS Berlin: Europe Qualifier finals?
We are happy to be one of the only two Turkish teams to make it to PGS Berlin: Europe Qualifier finals, but our aims and goals are much higher than that.
It's been a great start to 2020, what have you got planned for the rest of the year?
In 2020 we plan to work as hard as we can and be successful at other tournaments. And, of course, we want to play well at the PGS Berlin: Europe Qualifier final and make it through the main event.
You can watch Cihan and Blaze Esports in action at the PGS Berlin: Europe Qualifier final live on Twitch from March 6-8. Stay tuned for more details coming soon!