23 Aug 2019 / CS:GO
kennyS: "I think we are capable of winning the Major"
On the day before the start of StarLadder Major Berlin 2019: The New Challengers Stage, we had a pleasure to interview G2 Esports' star player, Kenny "kennyS" Schrub.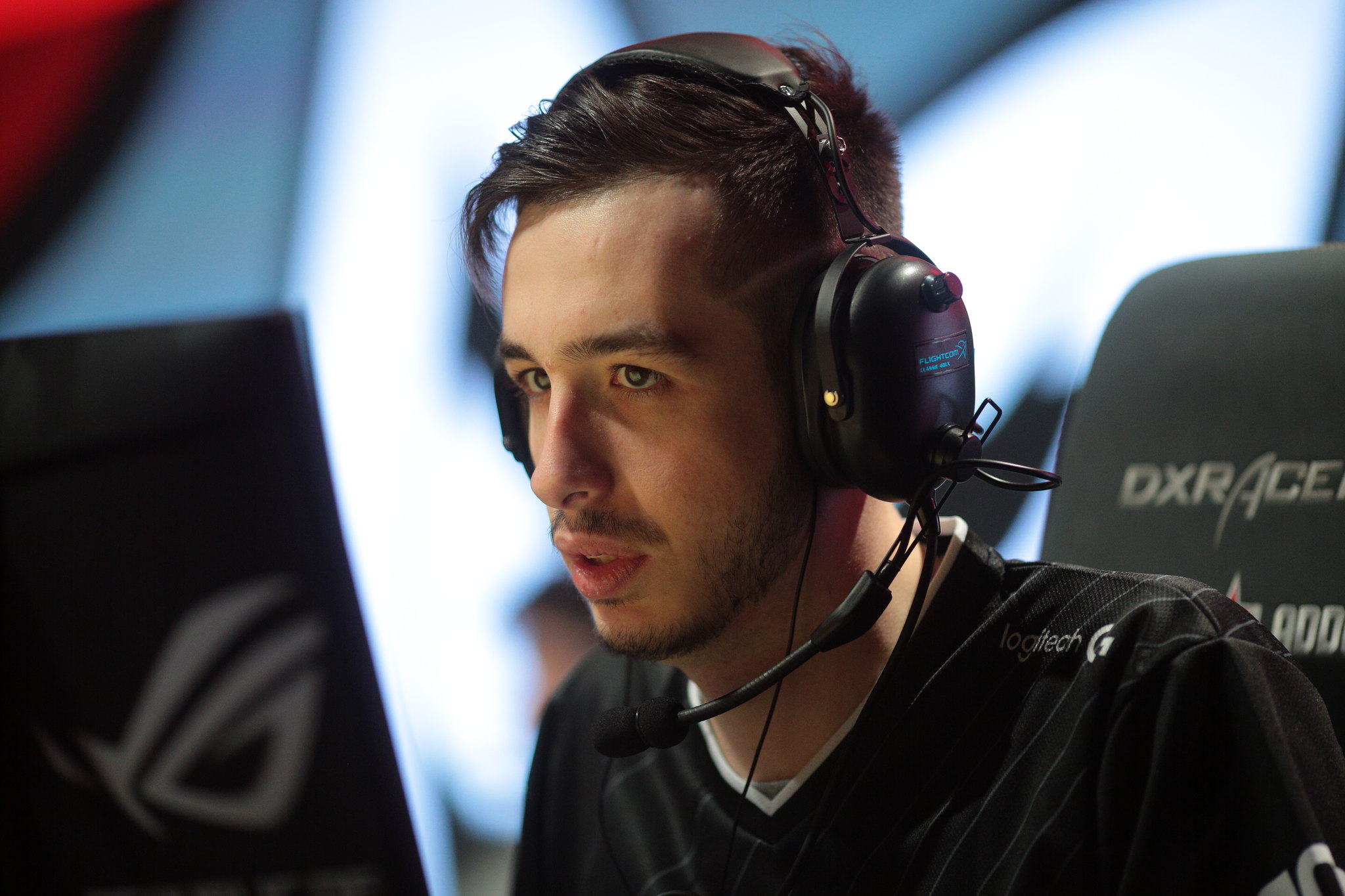 kennyS' G2 attends the Berlin Major
as one of the Returning Challengers
In this conversation, among other topics, we discussed the team's preparation coming into this tournament, asked him to summarize the progress that they have made since the addition of AMANEK, and talked about whether he is satisfied with the individual performance he has been showing as of late.
The last event you attended was IEM Chicago. What was the team doing after that? It's known that you had a bootcamp here in Berlin. Can you share some details on how you prepared for the Major?
After Chicago, we had the player break, and straight afterwards, we went to Berlin to have a really intense bootcamp. There, we probably worked more than 12 hours a day. It was between like 14 or 16 hours on some days. It was a really, really intense bootcamp. Every bootcamp we have is usually pretty much intense, but this one was much more intense because we had to gain the best form possible as we had two weeks of a break earlier. Also, we had to fix many issues, and we had to focus on many things to become a better team.
The tough thing is that when you focus on many things, it's hard to become super great at these things because there are so many aspects you get into. Your brain is thinking a lot, you are getting super tired. I really think that we made progress on many things after this bootcamp. Even though we didn't necessarily become perfect at some things, we still managed to get better. That was the point. The point was also to play a lot because before that we hadn't touched the game for two weeks. We wanted to get in shape for the Major. We had a lot of time for individual practice: Deathmatch, FPL, etc; but also, we had a lot of "fury", having 4 hours a day for rest while spending the other time on practice. When you combine all this time together, it makes a super long day. The bootcamp was "play, eat, sleep", that's it.
Let's talk about the last season. Back then, right after the Major, you decided to replace bodyy by AMANEK. What progress has your team made since then?
I think we've shown many good things. We've had good progress, especially since AMANEK joined the team. We had some issues with closing the games back then, which seems to be a bit easier for us now. Now, it feels like we have more foundation and more chemistry in the game. Ever since, everything seems to make more sense. JACKZ became our entry-fragger, which is anyway his job forever, and having AMANEK on the team also brought a new view and perspective to our game. Also, he is our IGL on some maps. He is a really important and precious player to us. He managed to release a lot of pressure out of some players on the team, and that was super good for us. As people could see, we've actually made a lot of progress with him. We've managed to achieve some quite good results. It feels like we have a lot of potential; we kind of have unlimited potential with AMANEK.
Being more specific about AMANEK's role on the team and the way he approaches the IGL responsibilities, can you tell me how it works? Does he bring new tactics, or it's more about choosing the right tactic from your strat-book at the right moment?
I think it's a mix of both. Sometimes you see something like a move or trick or a tactic that is itself super good or interesting, so you want to "steal" it. It happens every time. However, he is able and we all are also able to create our own tactics.
We all had a job to do on the bootcamp. For example, you cannot do all of it at the same time: work on pistol-rounds, important gun-rounds, etc. It's not really possible in such a short time, so we all had a specific job to do on the bootcamp. We don't necessarily steal "things" from other teams. We do our things, and we actually do both. I think it works in the same way for every team. Still, we like to do our own stuff more than "stealing". We usually do it when there is some super interesting stuff that other teams do.
After the EPL Finals, where you placed second, you could see people saying on the internet that G2 is back, shox is back, kennyS is back, and so on. Does it affect your team in any way? Does it put more pressure on you? It might have been the case for IEM Chicago, where you got off to a good start but were still eliminated in the group stage after losing to MiBR.
No, it wasn't about pressure. Now, we are just going forward to where we want to be. I mean, we are not where we want to be, but we are getting close to it. We have suffered and worked for that for so long now, but we don't feel any pressure because of it.
I think in Chicago we had the wrong mindset coming into the second game against MiBR. On the first day, we destroyed them pretty easily, and then we played against Liquid, who we should have won over, and on the next day, we fell short against MiBR. It was a complicated game and I think that they had a better approach to the game. We also might have made a mistake by being overconfident for that match, so it cost us the Playoffs spot. We were deeply affected by that, but we learn from our mistakes.
There are many teams who qualified for this Major through the Minor system. Can you name a few of them who you are looking forward to playing against? Maybe, there are teams who you think might surprise us?
Speaking about the teams who might surprise us, I think of two: forZe and CR4ZY. I think that both these teams have a lot of firepower. ForZe have been quite annoying to play against; CR4ZY rely a lot on their individual skill, which is a bit easier for us to play against because, in terms of individual skill, we might be the best team in the world or one of the Top 3 at least. Yet, CR4ZY is quite "crazy", to be honest (laughs). Their name fits them pretty well. They have a lot of strong individuals. ForZe is a team that has been together for a while now. Both are really good teams and I would not be surprised to see them upsetting during the Major and, maybe, reaching the Legends stage.
The most shocking upset of the Minors was FNC getting eliminated by CR4ZY, so now this organization will miss its first CS:GO Major. What do you think about it? There is also an interesting detail as your organization, G2 Esports, has a rivalry with Fnatic, even though it's mostly about League of Legends.
Maybe we have a rivalry, but we are not enemies with Fnatic. They've been here for so long, I've known them for so long, so I have nothing but respect for them. Actually, what happened to them can happen to every team in CS:GO. Back then, it happened to NiP. Now, it happened to Fnatic.
I don't think it's a big deal. I think that they will just start a new thing because it seems like what they had was not working anymore. They will come up with a new project and they will try again. Anyway, the Minor is the most difficult phase in the whole Major cycle. I think they will bounce back pretty easily because they are champions. When you kick out champions like that, they stand up and they get back to the top no matter how much time it would take from them to do that. These are people who, when they fall, manage to get back on feet.
What do you think about your current in-game form? Can you say that you are satisfied with it?
I think I'm having a decent season, which is much better to what I had the last year. Nowadays, CS:GO is super hard. When you don't work enough… It was the case for me for like three years in a row, including 2016, 2017, and 2018. Especially the last year. It was super difficult for me because I didn't want to do anything and I was really depressed with my life. If you don't do anything, you will have a moment when it strikes you back. If you don't work, you are going to struggle. It is what it is. Going back to the top, working again, grinding again - it takes time. I'm trying to be patient with myself.
I think that the season I'm having has been quite good so far, but everything I do is to become better for the next year, and everything I will do the next year is to become better for the year afterwards. I'm just going to keep moving forward to the point where I reach my full potential. Am I satisfied? It's not over yet. I want more, obviously, but it has been okay so far. I won't be disappointed after the things that happened the last year as I remember how it went, so I just have to be patient with myself.
You will be facing TYLOO in the first round of The New Challengers Stage. You know them well, you played against the exact same roster of TYLOO at the previous Major in Katowice and beat them 2-1. What do you think about this match-up and this opponent overall?
It's a good thing that we saw our match-up pretty early, so we got to prepare really well. Also, even though we played them at the last Major, and we play them at some other tournaments sometimes, it's not the kind of an opponent that we face a lot. Their playstyle is not typical. We want to be aware and focused, we want to make sure that we won't be caught off guard by their surprising playstyle so everything would be alright. I'm super excited to start playing and I hope we are not going to fall into the trap because this game is actually dangerous. If we will not be ready 100% straight away, we might get surprised.
The last question is about Ocelote, who's been hyping your team up a lot on Twitter. There is that specific tweet where he said that he will go to the Himalayan mountains if you don't win the Major, among other crazy things. Does he know something that we are not aware of?
No, he just believes in us because we've shown a lot of great stuff recently. We've shown an impressive progression recently, so there was a chance that this progression would keep going up. Also, he is aware of how our team works, all the chemistry it has. Moreover, the Major is held in Berlin and he is super hyped as G2's office is in Berlin actually.
if our csgo team doesnt win esl pro league and the major in berlin i become a monk in himalayan mountains kenny will do noscopes and flicks and jackz will dance you just dont know whats coming we are legendary and cant be beaten you dont understand that our wrath will be swift

— Carlos - ocelote (@CarlosR) May 24, 2019

Also, it's just Carlos. Carlos is always hyped, it's a part of his personality. He can be confident as we also feel pretty confident. However, it is a Major, and it's always complicated and different. There are so many things to achieve to actually win a Major. I think we are capable of winning the Major, but there is, first of all, a very long way before the Playoffs. We will figure it out afterwards. We have high objectives and ambitions, we are confident in ourselves, but we will progress step by step.
kennyS was interviewed by StarLadder's @EllanarkJesus