8 Sep 2019 / CS:GO
Astralis win StarLadder Major Berlin 2019
The Danish squad has defeated AVANGAR to claim StarLadder Major Berlin 2019 championship title and become the first team in the CS:GO history to win three back-to-back CS:GO Major Championships.
Astralis is the best team at
StarLadder Major Berlin 2019
The grand-final match kicked off on Inferno, which was the map-choice of Astralis. AVANGAR got off to a slow start and barely managed to score 3 rounds as the CTs, with Dzhami "Jame" Ali making only 1 kill in the first half. After the break, the Kazakh team won the second pistol and following ecos, 12-6, but then Astralis restored their economy and closed out the game at 16-6.
Dust II was the next map to be played, being AVANGAR's pick. The Danish five started on the CT side, where they secured themselves a solid lead coming into the second half as they took 11 rounds. Later on, Astralis lost the T pistol but recovered with a win in the force-buy, 12-5, so they seized the initiative and finished the match 16-5 in their favour.
The final standings of StarLadder Major Berlin 2019:
• 1st place — Astralis ($500,000)
• 2nd place — AVANGAR ($150,000)
• 3-4th place — Renegades, NRG Esports ($70,000)
• 5-8th place — ENCE Esports, Team Vitality, Natus Vincere, Team Liquid ($35,000)
• 9-11th place — mousesports, G2 Esports, CR4ZY ($8,750)
• 12-14th place — MIBR, FaZe Clan, North ($8,750)
• 15-16th place — Ninjas in Pyjamas, DreamEaters ($8,750)
• 17-19th place — forZe, Grayhound Gaming, Syman Gaming
• 20-22nd place — FURIA Esports, HellRaisers, Complexity Gaming
• 23-24th place — TYLOO, INTZ Esports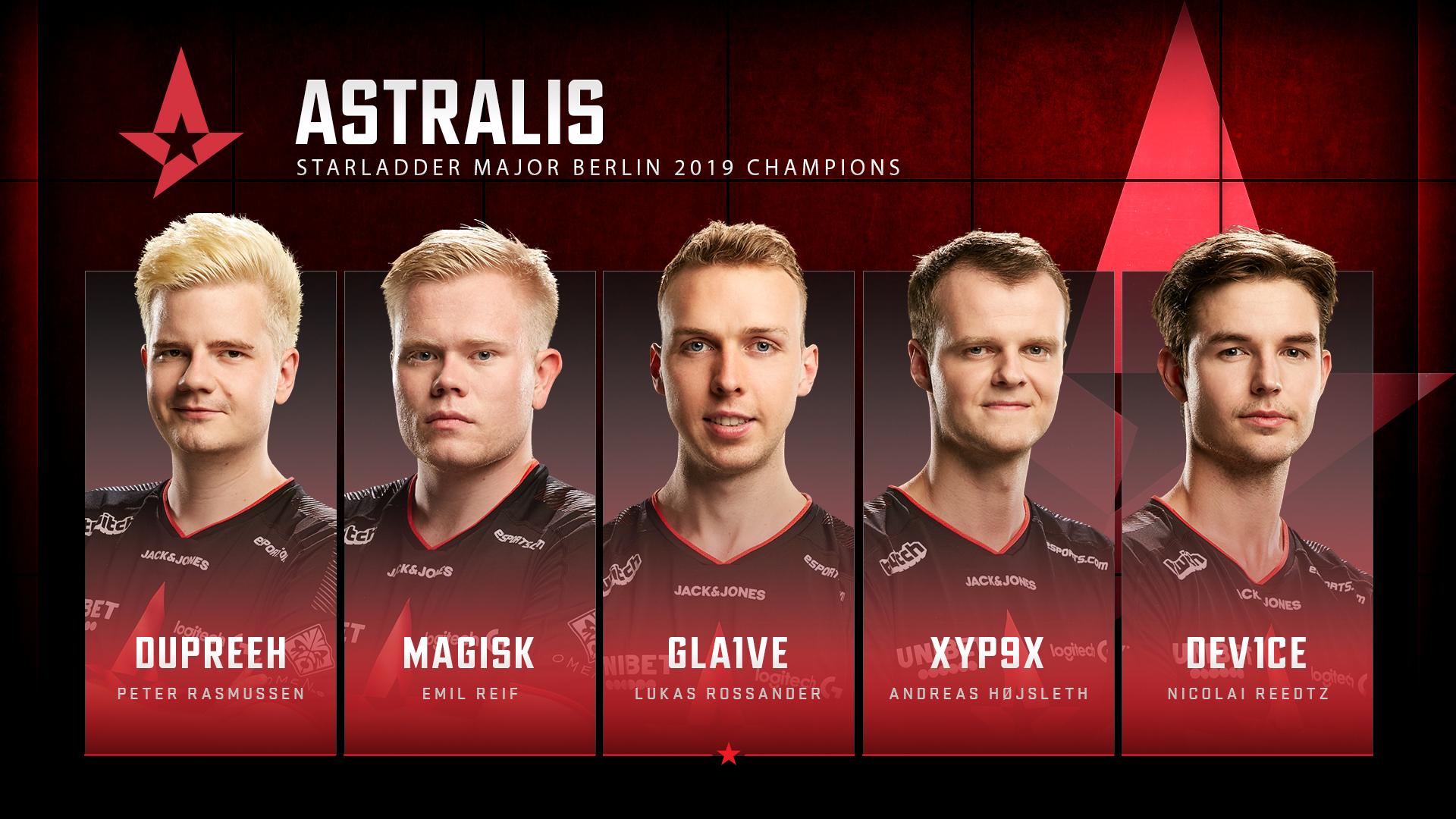 Nicolai "dev1ce" Reedtz has received the HLTV MVP award for his performance at StarLadder Major Berlin 2019. In Berlin, he played 13 maps, going positive in 12 of them, and averaged a 1.26 KDR.
.@dev1ce is crowned the HLTV x betway MVP of StarLadder #BerlinMajor 2019! pic.twitter.com/960g1wPziF

— HLTV.org (@HLTVorg) September 8, 2019

Subscribe to StarLadder CS:GO on Facebook and Twitter to follow all the news on the professional CS:GO scene and content that we produce!