Dota 2
August 01, 2018 10:19
The entire StarLadder studio joined the talent list of The International 2018
In the Dota 2 compendium have been revealed the lists of Russian-language and English-language studios, which will cover The International 2018. The Russian-language studio is presented by all talents of the StarLadder studio in Dota 2: Bafik, CaspeRRR, Droog, Feaver and Tonya.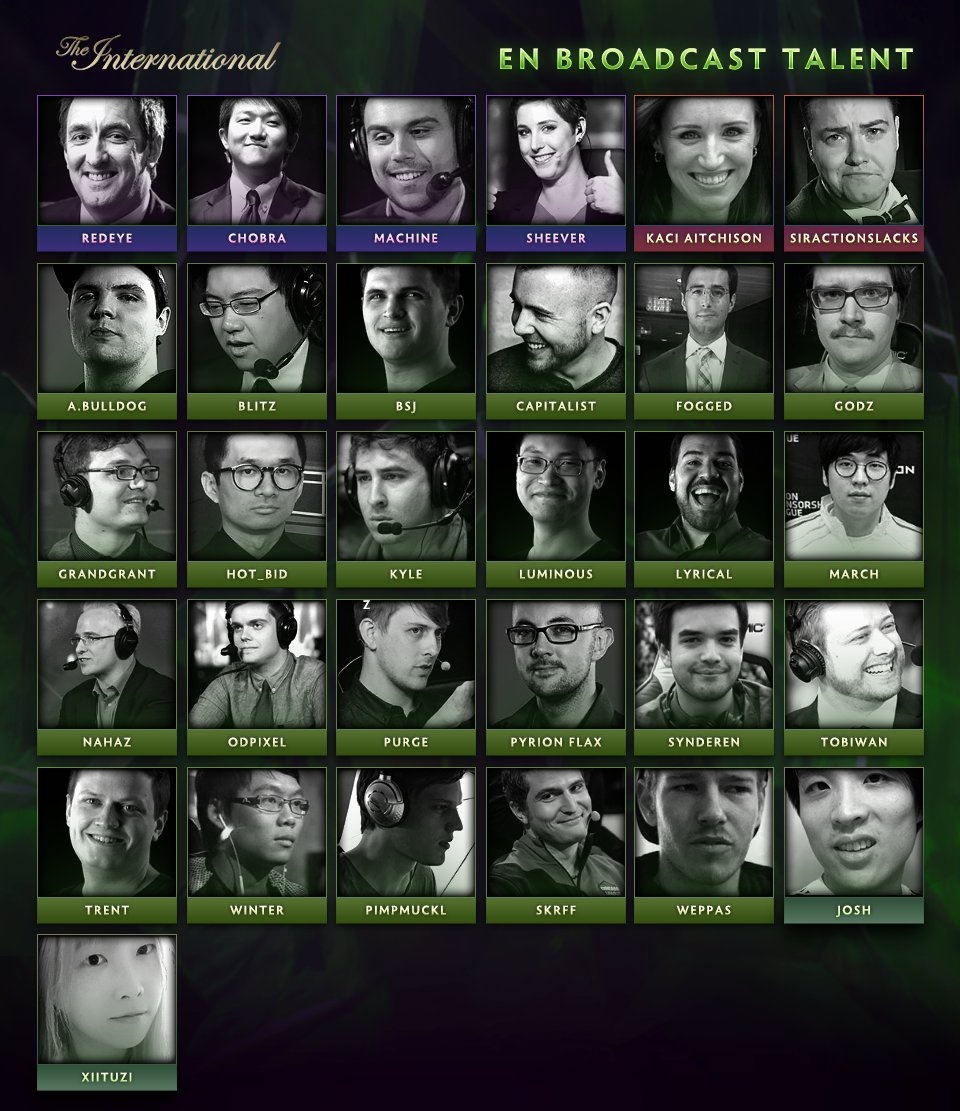 Image: Wykrhm
English talent line-up:
Hosting:
• Paul "Redeye" Chaloner
• Alex "Machine" Richardson
• William "Chobra" Cho
• Jorien "Sheever" van der Heijden
Content/Interview:
• Kaci Aitchinson
• Jake "SirActionSlacks" Kanner
Casters/Panelists:
• Henrik "AdmiralBulldog" Ahnberg
• William "Blitz" Lee
• Brian "BSJ" Canavan
• Austin "Capitalist" Walsh
• Ioannis "Fogged" Loucas
• David "Godz" Parker
• Grant "GranDGranT" Harris
• Ken "Hot_Bid" Chen
• Kyle "Kyle" Freedman
• David "Luminous" Zhang
• Gabriel "Lyrical" Cruz
• Park "March" Tae-won
• Alan "Nahaz" Bester
• Owen "ODPixel" Davies
• Kevin "Purge" Godec
• Ted "PyrionFlax" Forsyth
• Troels "syndereN" Nielsen
• Toby "TobiWan" Dawson
• Trent "TrentPax" MacKenzie
• Chan "WinteR" Litt Binn
Observers:
• Jonathan "PimpmuckL" Liebig
• Rikard 'skrff' Holm Melin
• Johan "Weppas" Westberg
Translators:
• Josh "AutumnWindz" Lee
• Helen "XiiTuzi" Xu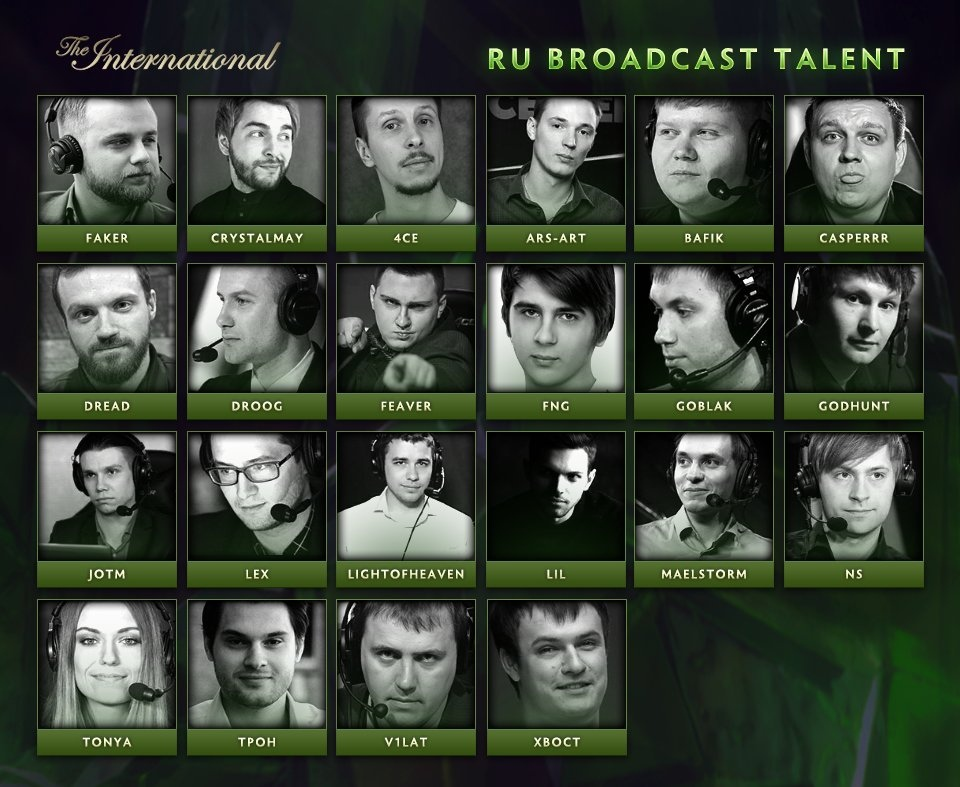 Image: Wykrhm
Russian talent line-up:
Hosts:
• Ivan "Faker" Demkin
• Dmitry "CrystalMay" Korchevinin
Interviewer:
Analysts:
• Ilya "Lil" Ilyuk
• Andrey "Dread" Golubev
• Artsiom "fng" Barshack
• Artur "Goblak" Kostenko
• Sergey "ARS-ART" Revin
• Alexander "XBOCT" Dashkevich
• Egor "JotM" Surkov
Commentators:
• Aleksey "BafiK" Bafadarov
• Oleg "Feaver" Skarzhinsky
• Roman "CaspeRRR" Lepokhin
• Dmitry "Droog" Chumachenko
• Viktor "GodHunt" Volkov
• Alexey "Lex" Filippov
• Dmitry"LighTofHeaveN" Kupriyanov
• Yaroslav "NS" Kuznetsov
• Vitalii "v1lat" Volochai
• Vladimir "Maelstorm" Kuzminov
Observer:
EN/RU Interpreter:
The International 2018 will be held from August 15th to 25th in Vancouver. The tournament will be attended by eight of the best teams following the outcome of Dota Pro Circuit 2018 and ten teams, who will have advanced through the qualifiers in six regions. At the moment of writing the prize fund was amounted to $22.7 mn and was still growing due to the in-game sales.
Subscribe to our socials - Twitter and Facebook, in order not to miss the news from the main summer event in Dota 2!