CS:GO
June 26, 2017 13:42
The most interesting facts about ECS Season 3
According to the outcome of LAN-finals within ECS Season 3, we have gathered for you a list of the most interesting stats facts,conneted with the participants of this championship. Collecting the information, we have used the following sources: database of HLTV.org, journalist of Dot Esports — WallabeeBeatle, co-owner of HLTV — Petar Milovanovic and personal author's knowledge.
— Richard «shox» Papillon scored a 100% KAST on Overpass in the match against OpTic Gaming: it means that the French player had a kill, assist, survived or got traded in the every single round;
— Team Liquid was the first to defeat Astralis at LAN on Overpass in 2017. In the previous time, it happened in the grand-finals of ELEAGUE Season 2, when OpTic prevailed over Astralis on this map. It's worth noting that in both cases Peter «stanislaw» Jarguz was an IGL of the victorious team;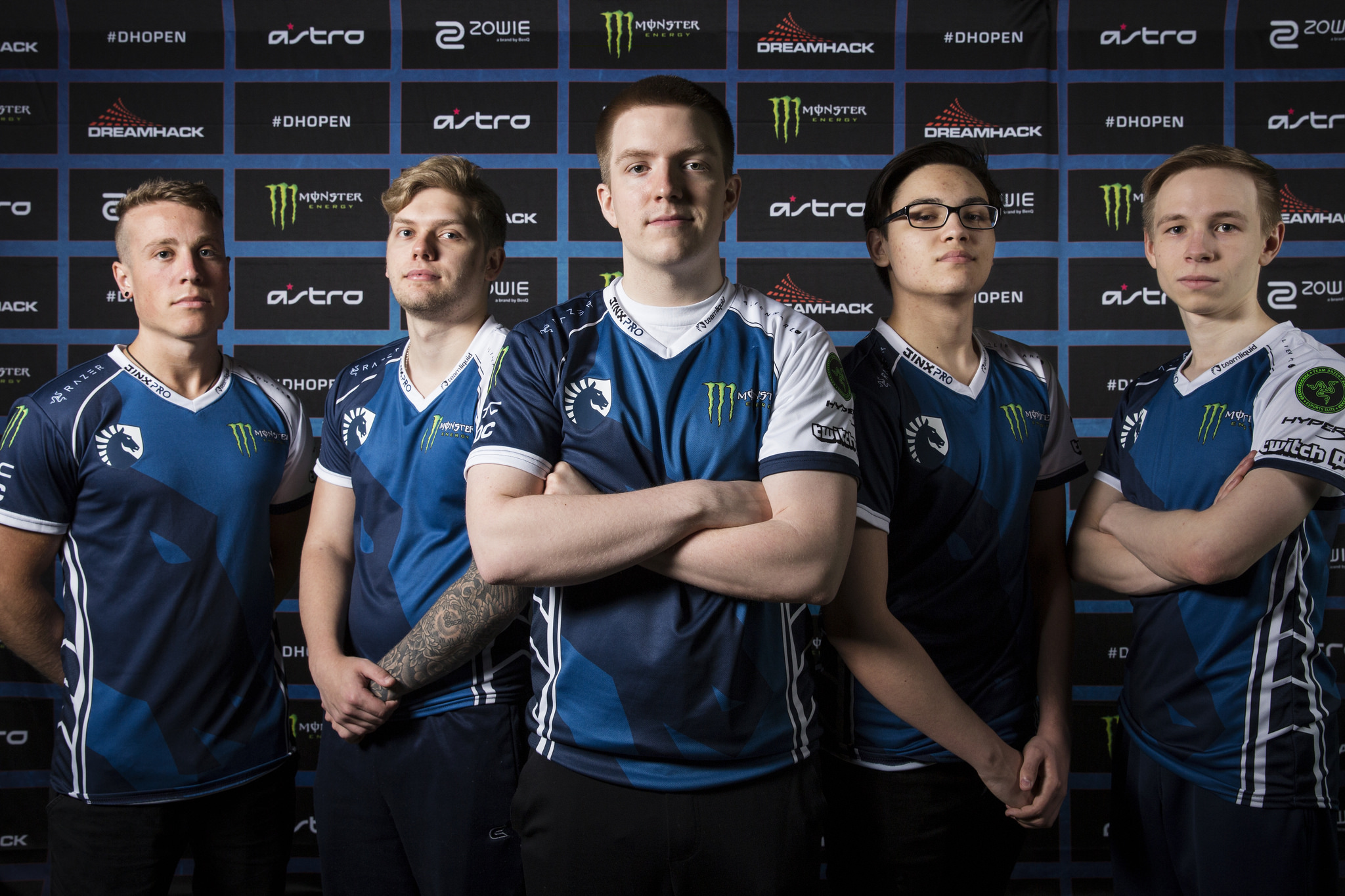 Team Liquid have interrupted a LAN winning streak for Astralis on Overpass
photo credit: DreamHack
— OpTic Gaming lost three maps out of three played ones, thus earning $35.000 for participating. And we'd like to remind you that OG are the vice-champions of the previous ECS season;
— At ECS S3 Cloud9 for the first time in a period of more than six months got out of groups at a premier LAN-tournament (the last one was EPL S4 Finals). It took 237 days for the Americans to finally do it;
— Both teams G2 Esports and Astralis couldn't defend their title of the ECS champions at the LAN-finals of the third season. It should be reminded that the Frenchmen won ECS S1 after the victory against Luminosity, and the Danes took the 1st place at ECS S2, defeating OpTic Gaming;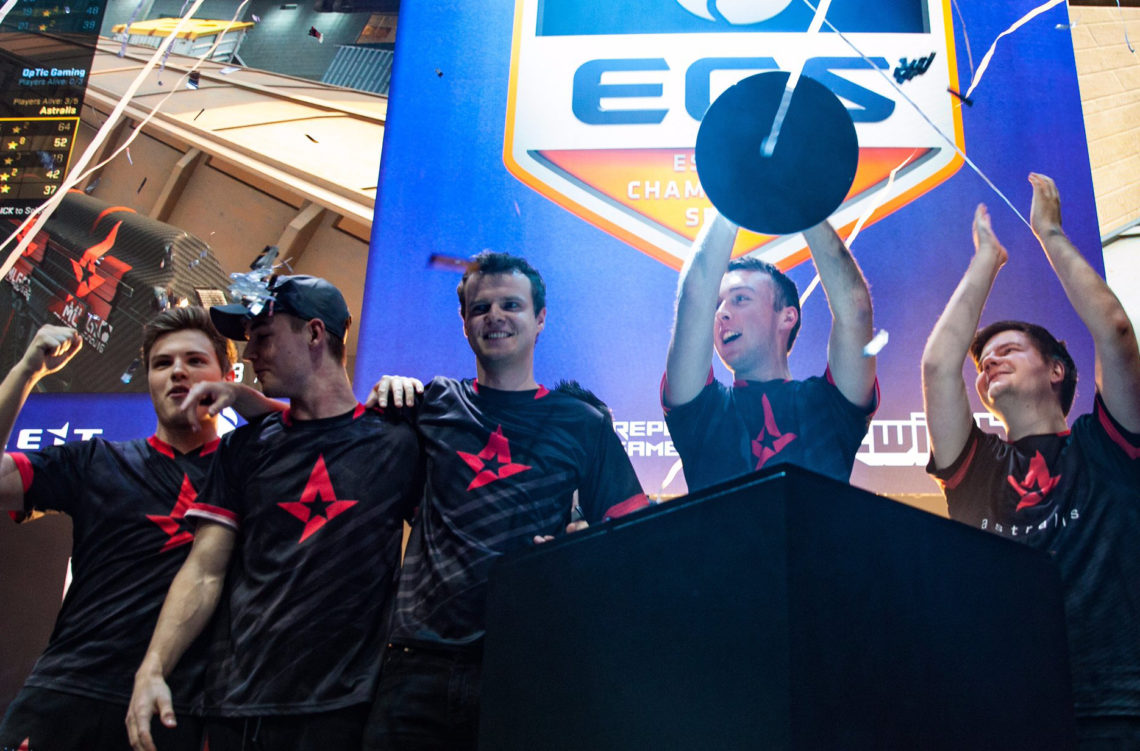 Astralis couldn't repeat their previous success
— For the third time in the year, fnatic were eliminated by the American team: Immortals at IEM Katowice, SK Gaming at EPL S5 Finals and now Team Liquid at ECS;
— ECS S3 is the fourth LAN-event for FaZe Clan after the arrival of Nikola «NiKo» Kovač, and in all four events FaZe reached the grand-finals;
— Speaking about a stability: Astralis have finished in top-4 at nine LAN-tournaments in a row. It reminds us about the era of Luminosity / SK Gaming in 2016;
— Cloud9 followed Team Liquid's footsteps in the semifinals of ECS S3 and repeated the most shocking «choke» in CS history, losing Mirage to FaZe Clan from 15-6 to 15-19 at the end;
The American teams are able to lose «unlosing»
— Nuke and Cobblestone have never been played at ECS S3 Finals;
— Fernando «fer» Alvarenga is the MVP-player, according to the stats from the LAN-finals of ECS Season 3. His average KDR is 1.31. Jonathan «EliGE» Jablonowski and Nikola «NiKo» Kovač are behind fer, getting 1.24 and 1.23 rate respectively;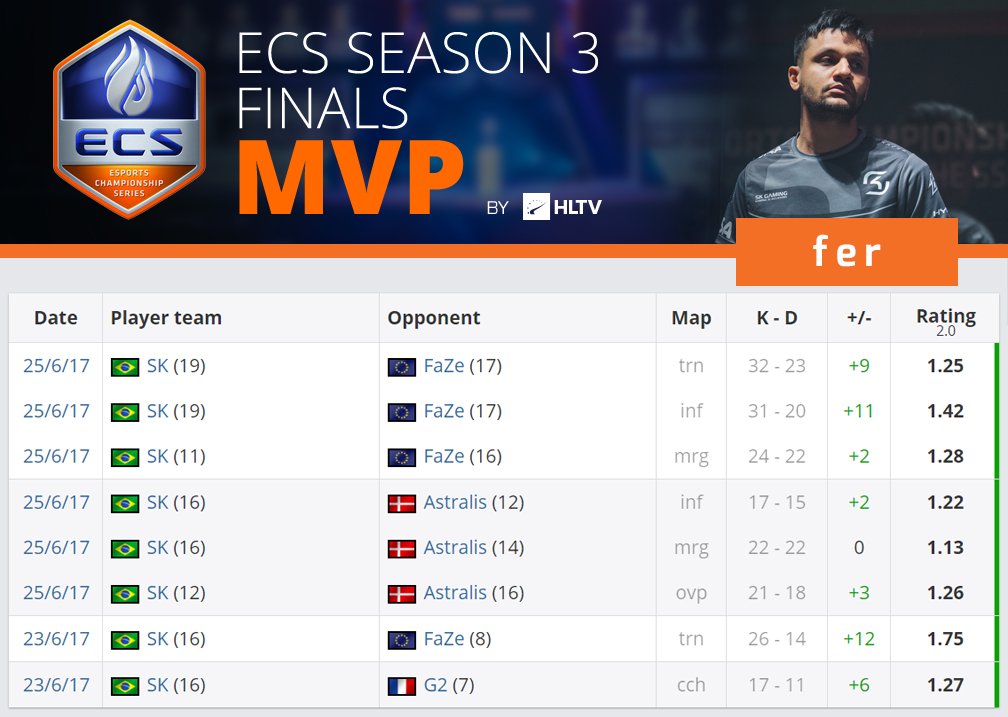 — Train, Inferno and Overpass are the most popular maps at the LAN-finals of ECS Season 3. They have been played six times;
— The best clutch-player at the tournament in London is Finn «karrigan» Andersen. He prevailed in six different 1vX situations. The second place belongs to Nicolai «device» Reedtz, who single-handendly won five rounds with an advantage for his opponents;
— There were three aces at the LAN-finals of ECS Season 3: Jesper «JW» Wecksell against Team Liquid, Fabien «kioShiMa» Fiey vs Cloud9 and Gabriel «FalleN» Toledo against FaZe Clan;
«-5» with AWP by JW lightened up a weak fnatic's performance at ECS
— Winning ECS Season 3, SK Gaming got its fourth championship title in this year. There were DreamHack Summer, IEM Sydney 2017 and cs_summit before it;
— FaZe Clan haven't won a single Bo3-series against SK Gaming in 2017. The European team has been defeated by SK at EL Major, IEM Sydney and ECS Season 3;
— Timothy «autimatic» Ta and Nikola «NiKo» Kovač have got the biggest amount of kills per one map. The American player killed 34 enemys on Mirage against Astralis, and the Bosnian — on Train in the grand-final clash with SK Gaming;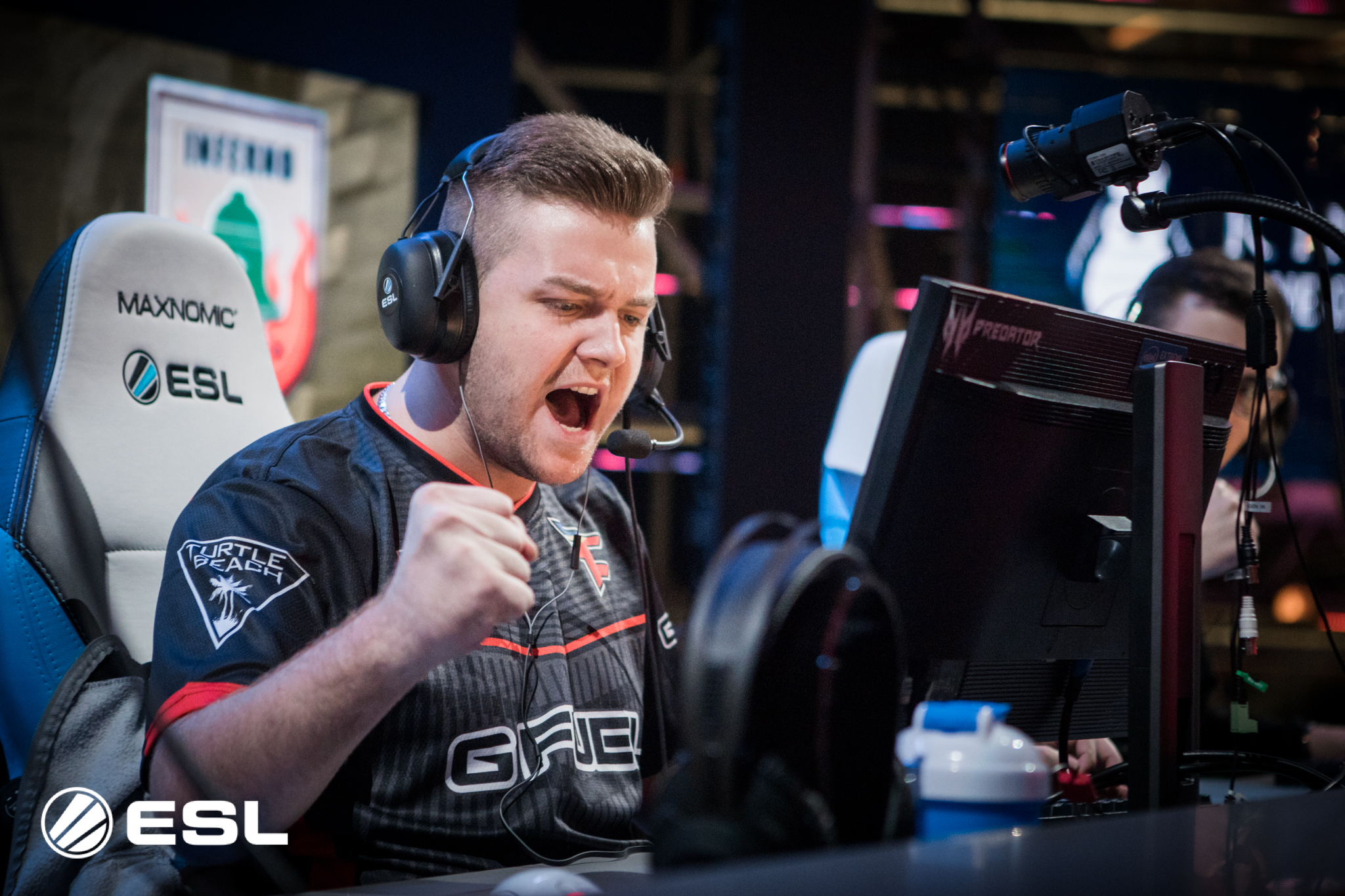 This man is responsible for FaZe Clan's comeback in the grand-finals on Train
photo credit: ESL
— The match between OpTic Gaming and G2 Esports was the fastest Bo3-series of the tournament. OG have been defeated 0-2, winning only 11 rounds in two maps;
— Anti-record was set by Will «RUSH» Wierzba and James «hazed» Cobb from OpTic Gaming. These players have the most weakest results: their KDR is 0.57 and 0.63 respectively;
— Taking the 3-4th place at ECS, Cloud9 earned $65.000. It is the highest prize for the American team in this year;
— In the last five LAN-events, where ECS S3 is most recent, there were five different NA-teams in top-4: OpTic at IEM Sydney, Misfits at DH Tours, Team Liquid at EPL S5 Finals, CLG at DH Summer and Cloud9 at ECS;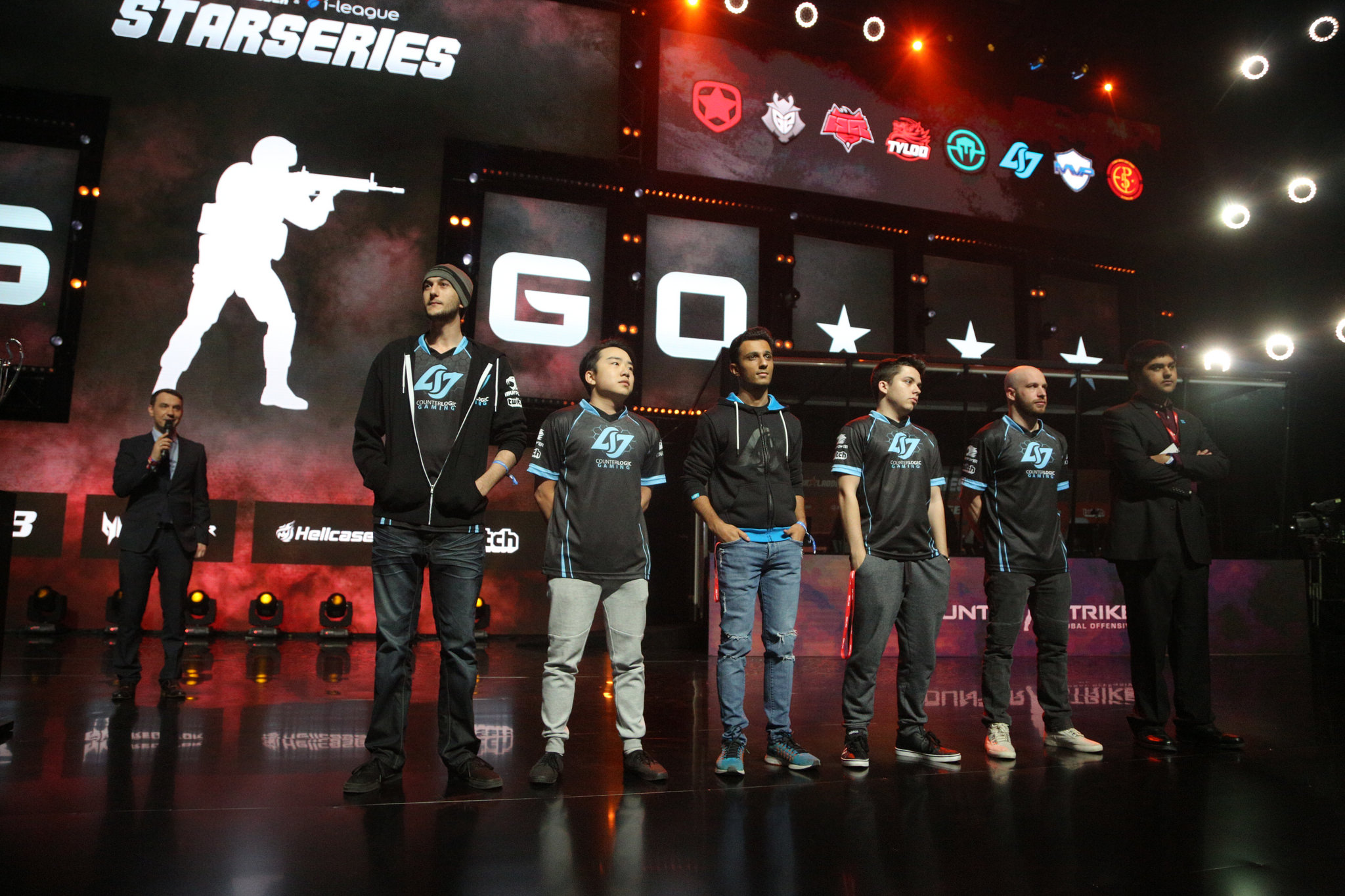 The American scene is on the upswing
— ECS S3 is the 27th international LAN-event for the core of SK Gaming (FalleN, TACO, fer, coldzera). In 22 of them, they finished in top-4, and in 9 — took the first place;
— UMP-45 hasn't been bought in the match between FaZe Clan and OpTic Gaming. In its place, players of FaZe Clan preffered MP7 in some situations;
— After ECS S3, in 2017 the current fnatic roster has the same amount of Playoffs breaking at LAN-events, as CLG: both teams got out of groups at StarSeries S3 and DH Summer.
Author — Ilya «EllanarkJesus» Chabelets, who can be found on 

Twitter