CS:GO
March 12, 2017 18:32
The Kiev Major: Virtus.pro advance to the finals
The first day of the Playoffs of the closed qualifiers for The Kiev Major is over. Four of the strongest squads in each region were fighting for a right to take part in the main championship's stage.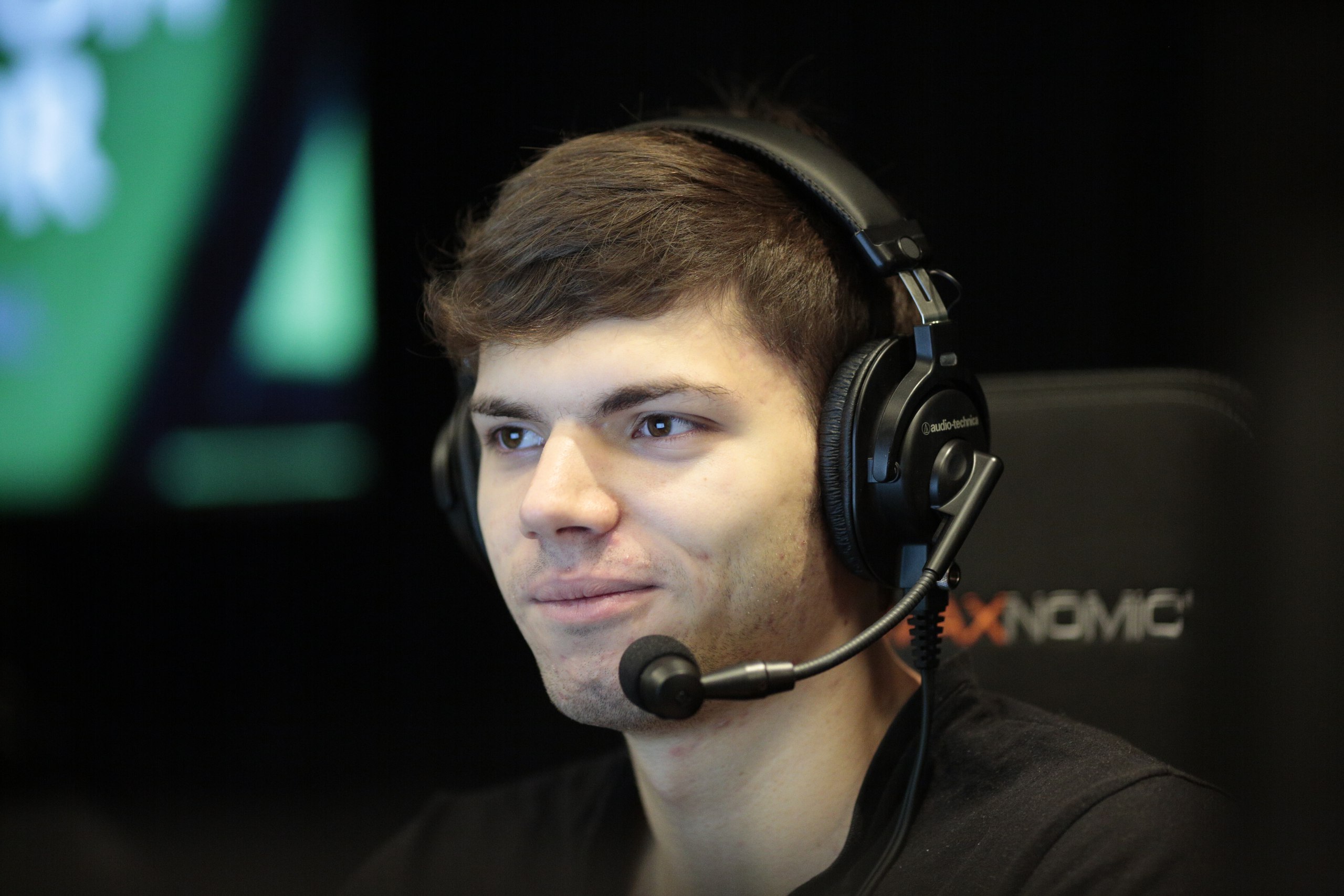 Lil and company advanced to the closed quals' finals
CIS
The Playoffs in the CIS region have kicked off with a clash Virtus.pro vs Natus Vincere. «Born to win» were defeated on the first map, but managed to bounce back on the second map. Despite this, «bears» proved to be stronger than their opponents and were the ones to say the last word. [2:1] and VP moved ahead in the upper tournament's bracket.
In the following countering were fighting Team Empire and Team Spirit. The fight was held on three maps and the victory was gained by the players of the former team.
In the last game for the current day, Virtus.pro were playing against Team Empire. Chappie and company overpowered the opponent on the first map, but the «bears» managed to get back on track on the second one. The decider-map went to VP, due to which they qualified to the finals of the regional quals.
And what about Na'Vi and Team Spirit, they go down to the lower bracket and will play tomorrow, while the winner will have to face Team Empire.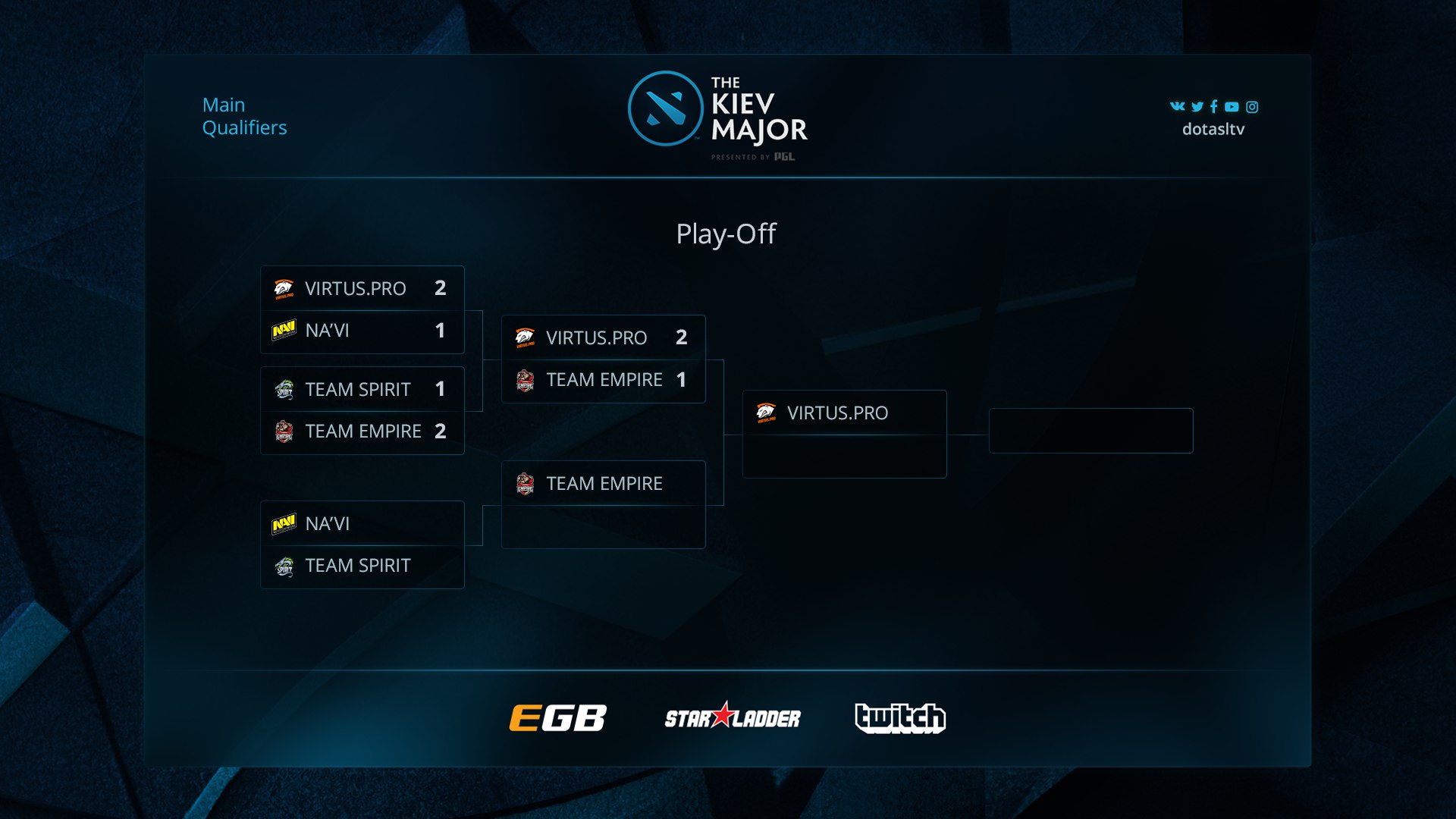 Europe
In Europe the day has kicked off with a countering Team Secret vs Ninjas in Pyjamas. The team under Puppey's guidance won on two maps and moved on.
In turn, in the second, for today, match were playing Alliance and B)ears. The Swedish squad dealt with the rivals at [2:0] and in the second tour of the Playoffs met with Team Secret. Here the Swedes failed to pick up the fight, so the victory was secured by Team Secret, who became the first finalists of the closed European qualifier.
Thus, NiP and B)ears will fight tomorrow within the lower bracket, while the winner will play against Alliance.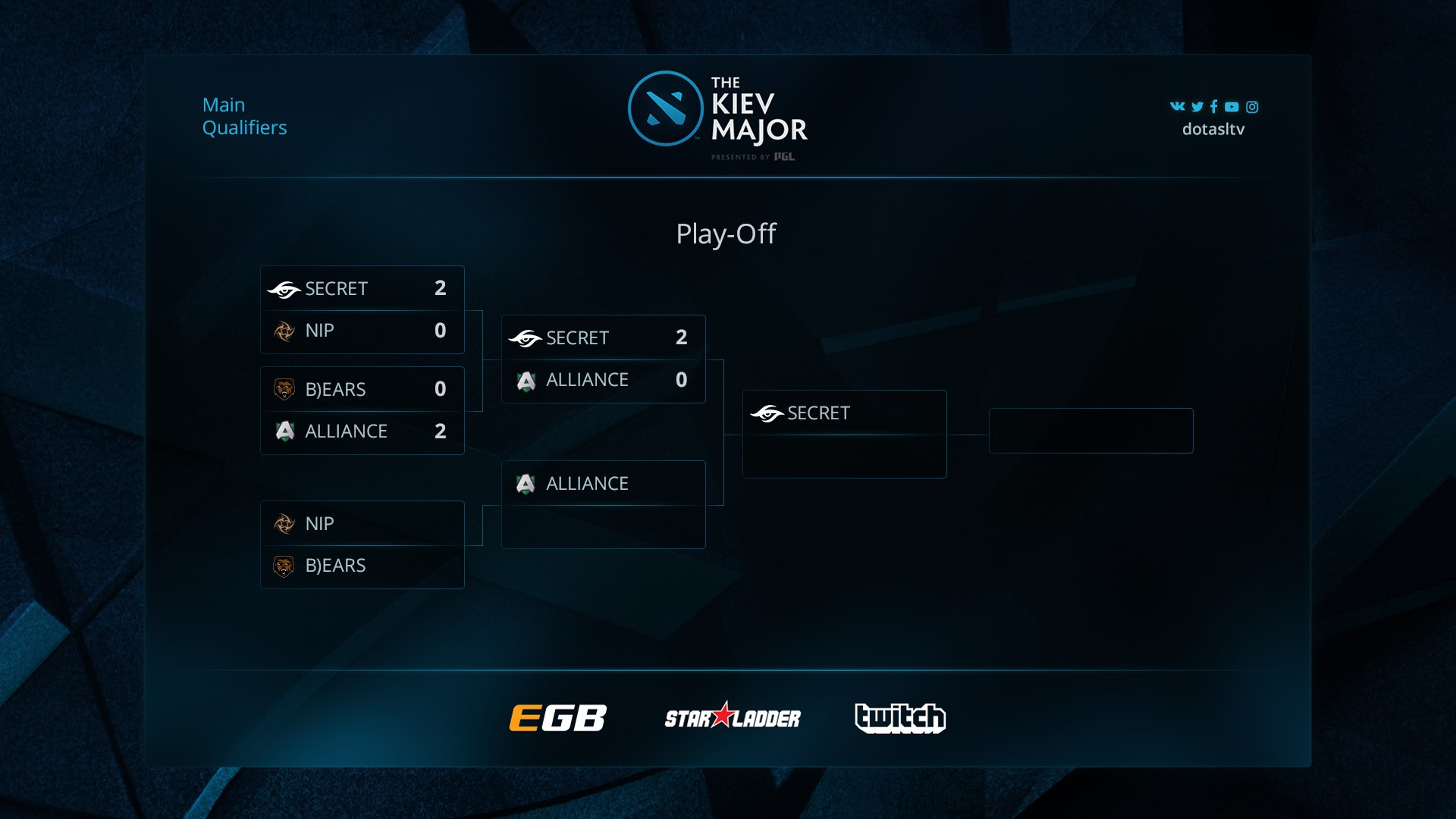 South-Eastern Asia
Was defined the first winner of the regional quals in SEA. A slot in the main stage of The Kiev Major was picked up by Team Faceless. More detailed information may be found here.
China
Was finished a group stage in the Chinese division. The lead in a group was taken by Invictus Gaming, followed by Vici Gaming. The third and fourth lines went to CDEC Gaming and iG.Vitality. These four teams have secured places in the Playoffs of the closed quals and will fight for a ticket to The Kiev Major already tomorrow.
The teams' seeding within the group looks as follows:
Follow the news and results of the closed quals for The Kiev Major on our site.