Dota 2
August 19, 2018 11:35
The International 2018: Schedule and seeding of the playoffs
Playoffs The International 2018 will begin tomorrow, August 20. Sixteen teams will move from their hotels to the Rogers Arena, where they will fight for the champion title and a prize fund that over $ 24,700,000.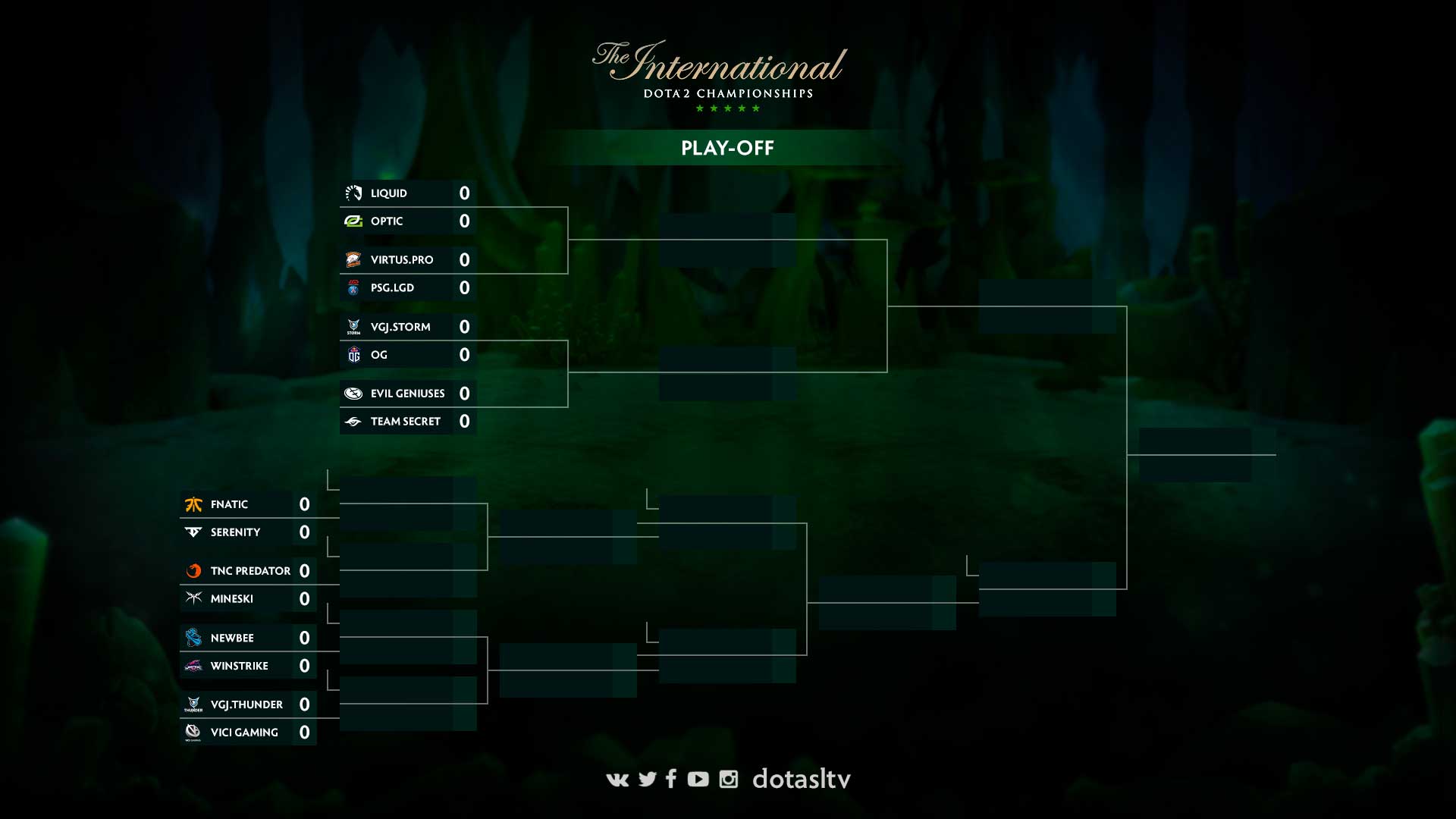 After four days of intense action, The International 2018 Group Stage has now concluded, resulting in the elimination of Invictus Gaming and paiN Gaming.
Team Liquid, Evil Geniuses, PSG.LGD, OG, VGJ.Storm, Virtus.pro, Team Secret and OpTic Gaming all advance to the Upper Bracket of the Main Event.
Fnatic, VGJ.Thunder, Mineski, Winstrike Team, Newbee, TNC Predator, Team Serenity and Vici Gaming must face the crucible of first-round best-of-one games in the Lower Bracket on Monday, August 20 at Rogers Arena.
Playoffs format:
• Sixteen teams play in a double-elimination format over six days.
• Eight teams begin in the Upper Bracket, eight in the Lower Bracket.
• First Lower Bracket games are best-of-one, Grand Finals are best-of-five, all others are best-of-three.
The schedule is presented below (CEST):

Day One, 20-21 August
• 19:00 opening ceremony
• 20:00 Team Liquid vs OpTic Gaming
• 23:00 Virtus.pro vs PSG.LGD
• 2:00 Fnatic vs Team Serenity
• 3:00 TNC Predator vs Mineski
• 4:00 Newbee vs Winstrike
• 5:00 VGJ Thunder vs Vici Gaming
Day Two, 21-22 August
• 20:00 VGJ Storm vs OG
• 23:00 Evil Geniuses vs Team Secret
• 2:00 Optic Gaming vs. Team Serenity
• 5:00 Virtus.Pro vs. Mineski
Day Three, 22-23 August
• 20:00 VGJ.Storm vs Winstrike
• 23:00 Team Secret vs. Vici Gaming
• 2:00 Team Liquid vs. PSG.LGD
• 5:00 OG vs. Evil Geniuses
Day Four, 23-24 August
• 20:00 OpTic Gaming vs. Virtus.Pro
• 23:00 VGJ.Storm vs. Team Secret
• 2:00 Virtus.pro vs. EG
Day Five, 24-25 August
• 20:00 Team Liquid vs. Team Secret
• 23:00 PSG.LGD vs. OG
• 2:00 EG vs. Team Liquid/Team Secret
Day Six, 25-26 August
• 20:00 lower bracket finals
• 00:00 Grand Final
Subscribe to our socials — Twitter and Facebook to get the latest announcements and news from The International 2018.