Team Liquid wins the PEL Kick-off Cup
After six days of competition, the PEL Kick-off Cup has found its champions. European mix squad Team Liquid surprised PUBG fans and experts alike as they took first place with 173 total points. 70 points behind first-place, Se7en Esports grabbed second. From the very first match, Team Liquid prevailed against their competitors and secured their lead throughout the Berlin event.
We are your @PEL_Esports Kick-Off Cup Champions #LetsGoLiquid

This is the first step, Phase 2 domination is coming next 🏆 pic.twitter.com/vbLeAkpb8r

— Team Liquid (@TeamLiquid) 5 мая 2019 г.
Contenders on the rise
A total of 32 PUBG Europe League teams, 16 from the PEL and 16 from PEL Contenders, had participated in the PEL Kick-Off Cup with $125,000 on the line.
Out of the 16 teams that made the PEL Kick-off Finals, ten came from Contenders and only six from PEL. Contenders teams won in both group standings: Desperado topped Group A, and 3DMAX took Group B.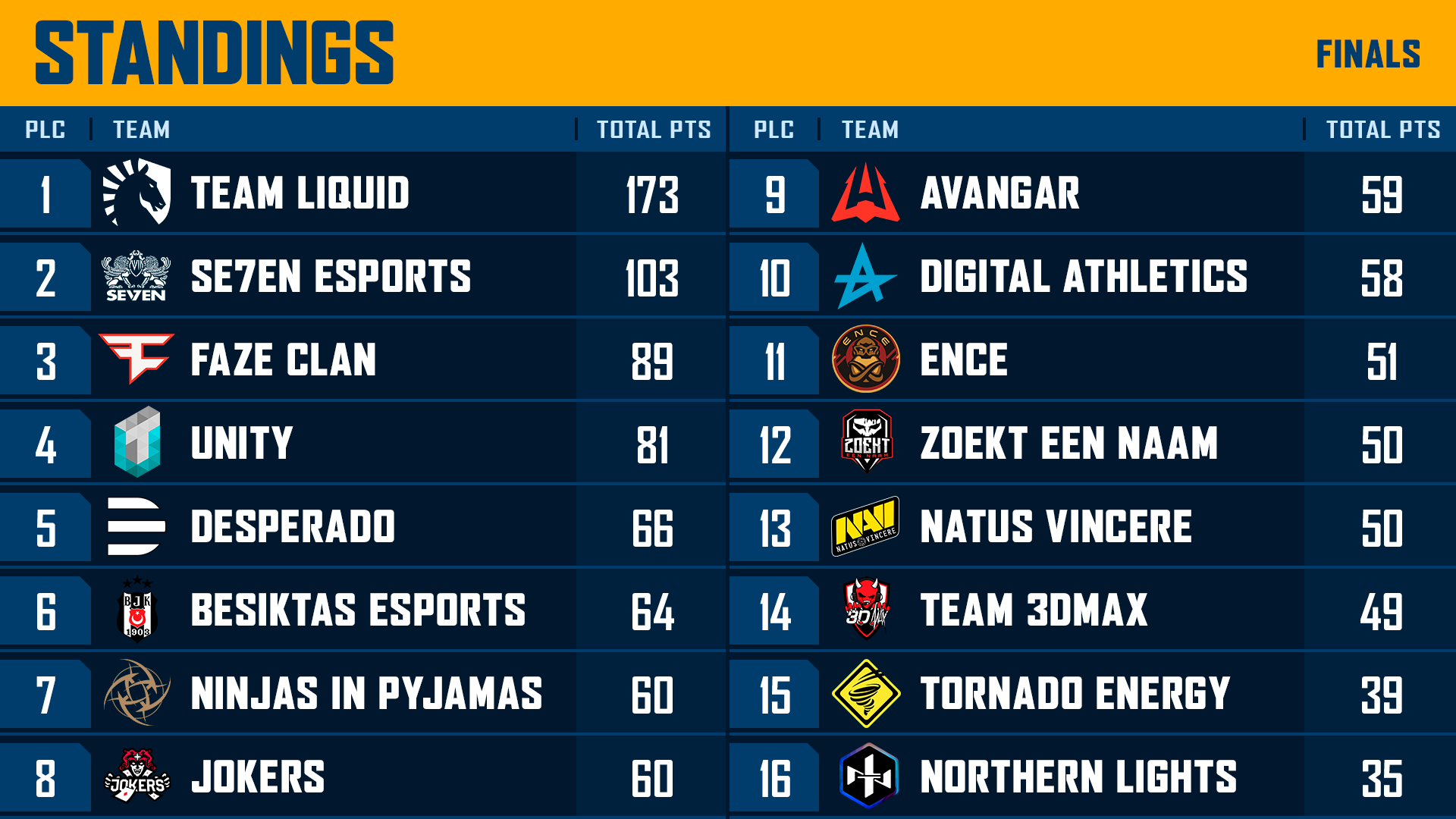 Below is the prize pool distribution:
•

1st place – Team Liquid – $50,000

•

2nd place – Se7en Esports – $22,500

•

3rd place – FaZe Clan – $15,000

•

4th place – UNITY – $7,500

•

5th place – Desperado – $7,500

•

6th place – Besiktas Esports – $7,500

•

7th place – Ninjas in Pyjamas – $7,500

•

8th place – Jokers – $7,500
Ready for Phase 2?
The Kick-off Cup previewed two key considerations for PEL Phase 2. First, it gave Contenders teams hope and confidence. Second, it provided important insight of how their skills lined up against premier league teams.
Phase 2 is set to begin on May 17 back in the Berlin studios. The scores have been reset for Phase 2 but the storylines continue: will ENCE maintain their dominance shown in Phase 1? Or will Team Liquid clutch first place after their phenomenal display at the PEL Kick-off Cup?
Stay tuned, follow our social media: