CS:GO
August 02, 2019 10:00
svyat: "I hope that [this Minor] made us a tougher team"
Right after DreamEaters became the first team in the Play-in Stage to qualify for StarLadder Major Berlin 2019, we conducted an interview with its captain, Svyatoslav "svyat" Dovbakh.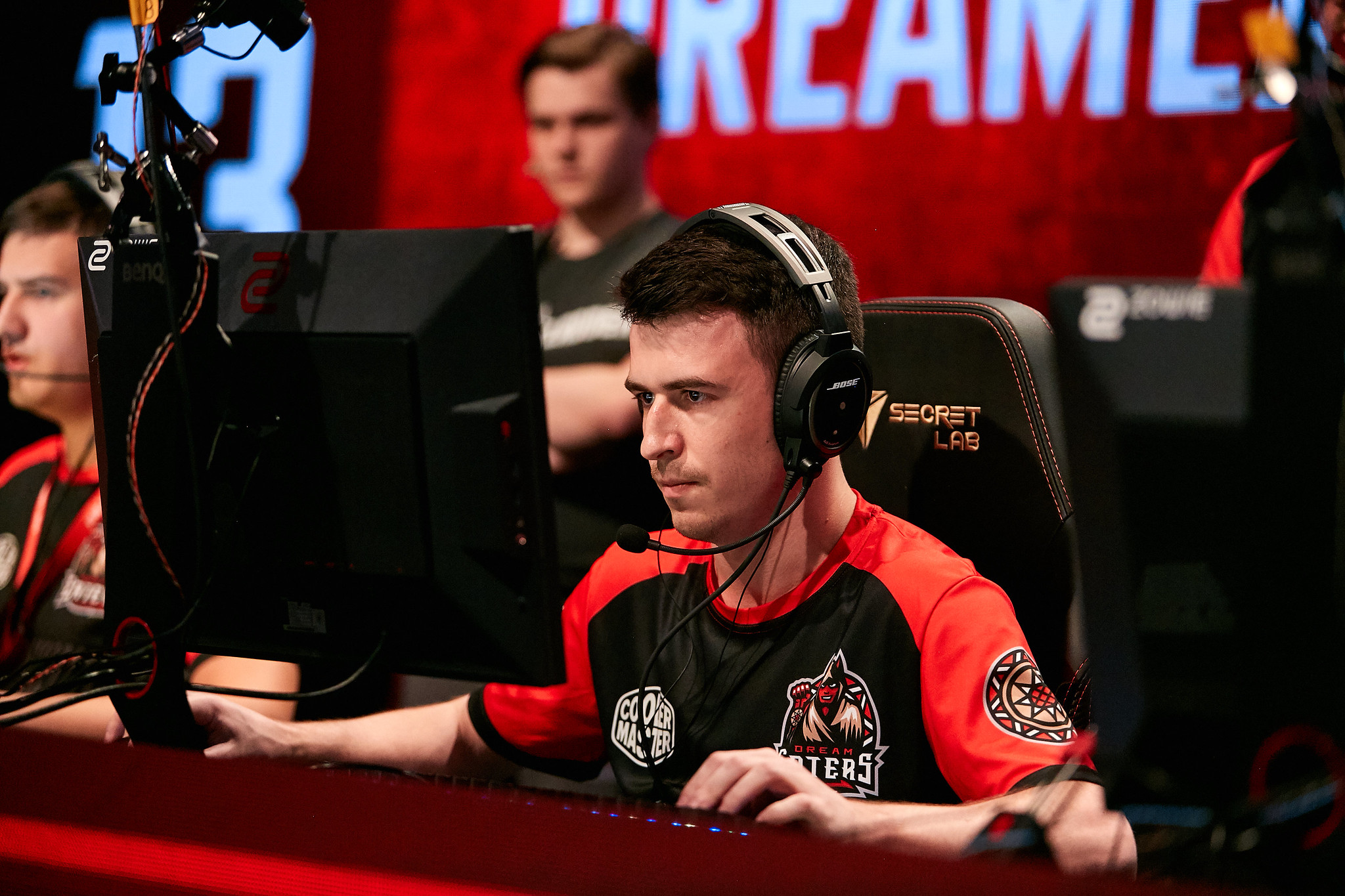 svyat's DreamEaters qualified for the Major
after defeating INTZ in the Play-in Stage
The team's IGL told us about their preparation coming into the Play-in Stage, feelings that the players felt after securing a spot at their first CS:GO Major, and what things they have learned after this Minor.
As you were going to begin your participation in the Play-in Stage, did you feel relaxed because of having a margin for error? Even at the moment when you were playing against Syman Gaming, you knew that you could lose two matches and still qualify for the Major by picking up one victory.
Absolutely no. To be honest, we wanted nothing more than to avoid the Play-in Stage. [In the Playoffs of the CIS Minor], we had an opponent, Syman Gaming, that we should have dealt with. We were confident about winning the match against them. That's why we were not relaxed in any sense after losing that game. There was only anger. We were really angry. We looked at who we had to play against afterwards and realized that we were drawn against a tough opponent. We were drawn against INTZ Esports.
However, to be fair, I was surprised to see that they are in the HLTV Top 30. They don't play as a team from the Top 30. They play very chaotic and very random, so it wasn't hard for us to play against them. We watched their previous games and we knew what to expect from them: all unusual setups, all splits when two players are on one side of the map and the rest are on the other, and so on. We expected it, prepared for it, and won the match. We were not relaxed at all.
Talk to me about that incredible INTZ comeback on Mirage from 15-4 to 15-19. You lost 15 rounds in a row. What did go wrong?
Everything was wrong. It was the same as in the match against Syman. First of all, we lost the most important rounds. Some of us might have believed that we got it before it was actually done. We wanted to end the game as soon as possible. We were getting worried. "When will it be over? Let's win it already!" — those are the words you could hear in our TeamSpeak. That's how INTZ came back into that game.
We just lost so many key rounds. Some of them were taken with a minimal advantage, with one or two players surviving the round. That's the thing that broke us. For some it was harder to deal with than for others, but eventually, we stopped playing as a team. We made so many critical mistakes, so the Brazilians managed to pull off a comeback. I don't think that they did anything special. It was easy to read them. Actually, they always play a style that is easy to read. There was only one moment when they pushed us with an AWP and destroyed our plans for the round. They kept doing the same things, so we knew how we should play against them. We just didn't manage to execute our initial plan.
You and the rest of DreamEaters players have qualified for your first CS:GO Major. However, in your interview for HLTV, you said that it's not a big deal for you. Why is that?
To be honest, the fact that we've qualified for the Major doesn't mean for me as much as it could. There will be many Majors in the future, and this Major will not be different from the next one. If you want to qualify for them, you just have to be on a good team; on a team that progresses, evolves, wins against strong lineups, and practices. Overall, you need to be on a team where players work on themselves. That's why the fact that I'm on one of such teams is more important to me. I'm happy to be in this position. The fact that we have made it to the Major is a logical outcome.
If we had advanced to the Major after yesterday's match against Syman, I would have been happy because that game was really tough. We were struggling with ourselves. As a team, we play decent, but as people and players, we are not always able to handle the pressure. We knew that we deserve to be at a Major and that we had what it takes to achieve that. We just had to deal with our emotions. When we won over INTZ, I thought: "Well, alright. We did it, but we should have done it earlier.". That's it.
Speaking about all the teams you've represented during your career, do you think that now you've reached a new peak with DreamEaters?
Sure. You can see it in our results. I've qualified for the Major with DreamEaters. I also see the difference between what is happening in my current team and what was happening in the previous ones. Everything is better here. I hope that it will be only getting better and better. For me, as for a player, my individual performance has also improved. Previously, when I was leading my teams, I used to play worse. Now, I'm getting better at it. That's the thing I'm also happy about. You can say that it's the highest peak I've reached for the last two years.
How are you going to prepare for StarLadder Major Berlin 2019: The New Challengers Stage? Are you going to go on vacation?
Now, we will have to go on vacation for about a week. That's because we planned it in advance. When we are back, we will have two or three weeks during which we will be preparing as hard as possible. To be fair, this vacation might be even shorter. That's because we've qualified for the Major and we have to prepare for it.
I don't know all the details because I am yet to discuss our preparation with my team. Probably, it will be standard: bootcamping, fixing mistakes, and analyzing games. Also, we need to learn how to deal with our emotions. We have to come up with new things for our game and, what is the most important aspect, to find a way to handle the pressure. That's a very big problem for us, so we will work on it in the first place.
At this Minor, you've had a difficult journey and spent more than a week in Berlin. What has the team learned? What progress can you observe at this moment?
Probably, we have become more confident in ourselves. That's because we managed to accomplish our goal - [we have qualified for the Major]. I hope that everyone on our team learned new things and gained the right experience from it in terms of reacting to the game; in terms of reacting to what a match's result might be. We just came to the conclusion that we cannot play our own game when we are nervous. That's very bad for us. When we play our game, we are doing well. In this case, we can beat decent-level teams.
That's why the most important thing we have learned at this Minor is that we should not be nervous. I hope that these matches made us a tougher team. In a way, I'm even happy that we didn't win a spot at the beginning. It would be easy. [In the Play-in], we earned a spot and got the experience of such matches. At the Major, matches will be as intense as they were here, I'm 100% sure. There, we will have very important matches and everyone will be nervous, both our team and opposite ones. It was important for us to gain that experience. Now, we can use it at the Major, which will kick off in a month.
How will your sticker look like?
It will be cool. Probably, not many people will immediately understand what it means, but it will be cool. I will not say how it looks. I want it to be a surprise (laughs).
svyat was interviewed by StarLadder's @EllanarkJesus