PEL Contenders Phase 2 starts May 13
Are you ready for another two months of exciting PUBG Europe competition? Phase 2 of PEL Contenders is approaching fast and will arrive on stream as soon as next Monday, May 13. Phase 2 will welcome a handful of new teams to the league and raise the stakes even higher through the relegation system.
PEL Contenders Phase 2 format and dates
PEL Contenders Phase 2 will run from May 13 to July 4. There will be four play-days each week, starting at 19:00 CEST from Monday to Thursday. Each playday will feature four matches for the Group stage and three matches for the Final — a total of 112 games — a true PUBG marathon that not only tests strength, but endurance and consistency too.
The 32 participating teams will be seeded into two groups of 16 (picture of seeding below) with the top 8 of each group advancing to the Contenders Phase 2 Finals. The phase will also welcome new teams that won the Africa and Middle East, Europe: East and Europe: West regions including: Wild Cats, k23, and MOONWOLF.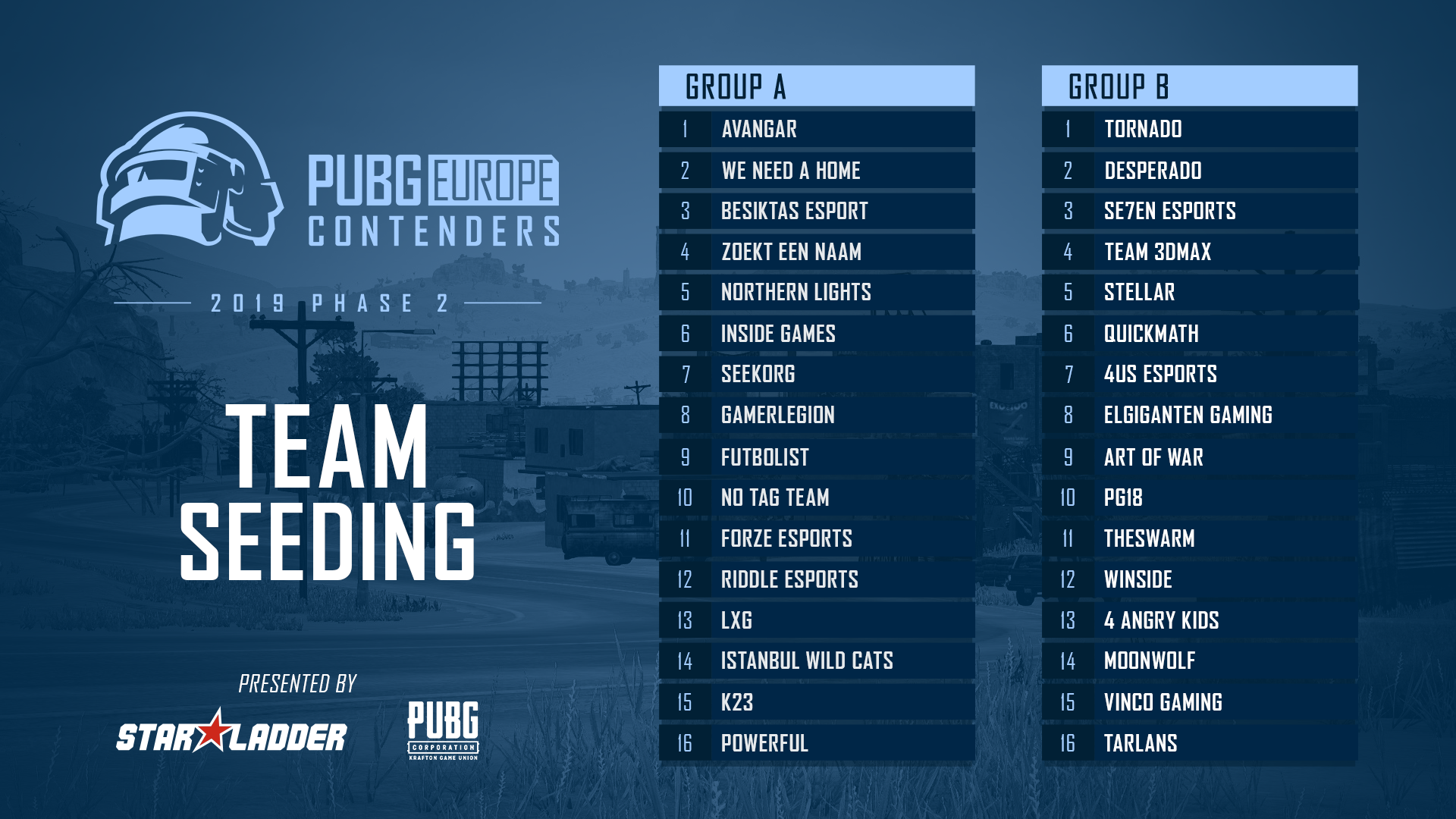 Relegation is here
At the end of Phase 2, the top PEL Contenders squads will enter a 16-team relegation tournament against the lowest-placing PEL squads - PEL Promo. Those who finish on top will be promoted to PEL and the rest will drop down to Contenders.
PEL Promo relegation format:
• 12 top teams from PEL Contenders
• Four bottom teams from PEL
• Top four rise up to play in PEL Phase 3
• Bottom 12 drop down to play in Contenders Phase 3
A similar relegation system will be put in place between PEL Contenders and PEL Open. The PEL Contenders Promo tournament will see the bottom twelve teams from Contenders group stage go against the top competitors from PEL Open. Winners go up, losing teams drop down.
PEL Contenders talent line-up
Familiar faces you've grown to love from PEL Contenders Phase 1, Banks and TheNameIsToby, will be there to cast all the matches.
Where to watch PEL Contenders Phase 2?
• EN: Twitch.tv/PEL_esports
• RU: Twitch.tv/PEL_esports_ru
• Map: Twitch.tv/PEL_esports_map
---
Follow us for more info about PEL Contenders at: