Dota 2
August 03, 2017 06:51
LGD and LFY — leaders in their groups
The first gaming day at The International 2017 has already reached the finish. The majority of teams secured their first points, while some of them failed to win a single map.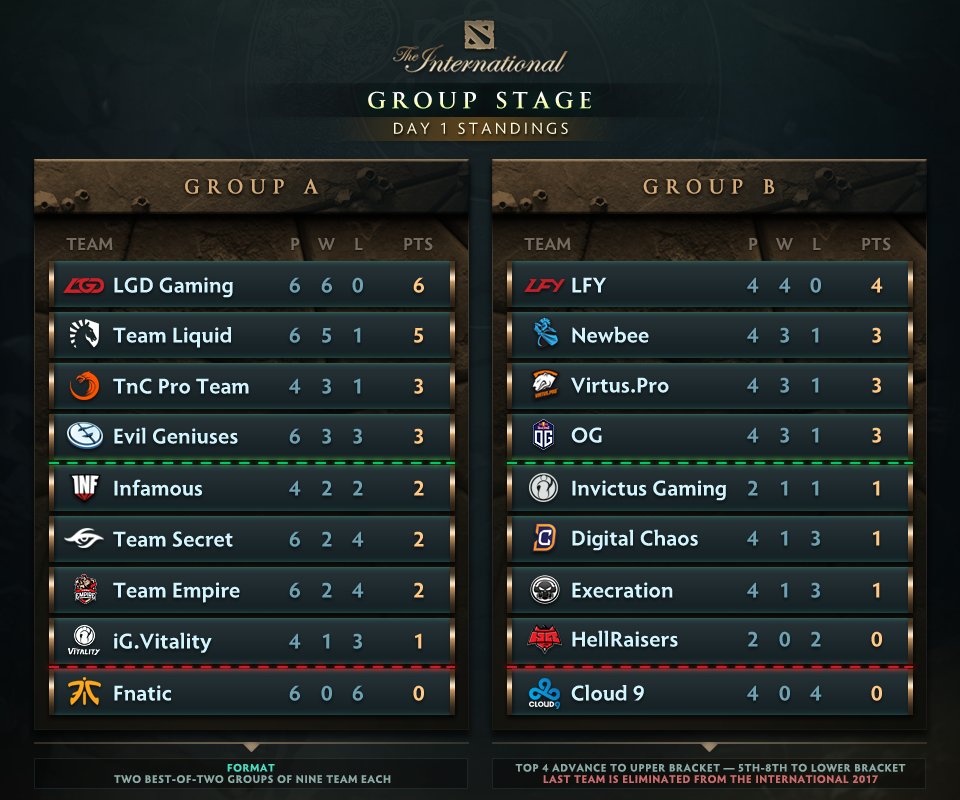 Within the first match-day were held 20 ВО2-matches. The victory costed three points for the team, while a draw — only one.
Remaining undefeated, LGD Gaming finished the initial championship's day, thus taking a lead in group «А» (6-0), while the following line is taken by Team Liquid with 5-1. Also the first four was entered by TNC Pro Team (3-1) and Evil Geniuses (3-3). The last place in group «А» with three defeats is occupied by Fnatic.
On the first place of group «В» may be found LGD.Forever Young (4-0), while the second one went to Virtus.pro, Newbee and OG (3-1) at a time, who have an even number of points. At the close of the first match-day, the worst result in a group was shown by Cloud9 (0-2).
OG, Liquid and LGD are looking pretty serious so far, while VP have slightly messed up their performance with the last game, but it's all just trifles, the main thing is to be a winner.

— Vladimir Kuzminov (@MaelstormOne) 2 августа 2017 г.
It's worth noting that there are still three days of the group stage ahead, so the positions of teams within the tournament table may change significantly.
All announcements of matches may be found on our site and in socials - Facebook and Twitter. While the records of by-past games are available on our YouTube-channel.