CS:GO
November 03, 2018 20:58
Na'Vi are the champions of BLAST Pro Series: Copenhagen
Natus Vincere have prevailed over Ninjas in Pyjamas with a confident victory in the final match and become the champions of BLAST Pro Series: Copenhagen 2018, earning the cash prize of $125,000.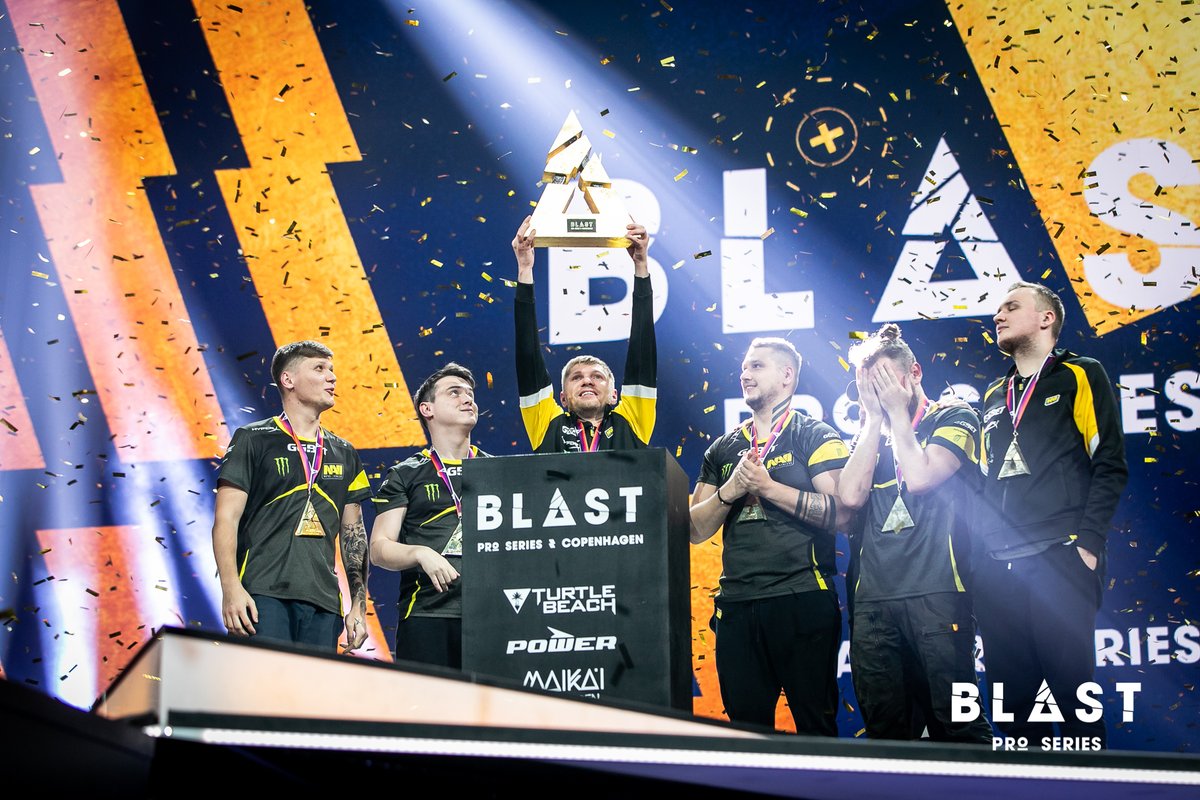 Na'Vi won their first BLAST Pro Series event
photo credit: RFRSH Entertainment
The match started on Mirage, which was chosen by NiP. Na'Vi won the pistol without losing a single player and followed it up with the next three rounds. It continued with the Swedes getting their first point after a successful execute on A — 4-1. At a 6-1 mark, Ninjas in Pyjamas leveled up their game and reduced the gap to 6-5. However, the CIS squad took the initiative back later on and got the victory in the first half, 9-6, which was finished by a great attack from NiP on the A plant.
A double kill by REZ helped the Swedish team to take the pistol, so afterward they tied the score on 9-9. But it was followed by a great force-buy from Na'Vi that resulted in NiP losing the lead, changing the balance of power on the map. Consequently, Natus Vincere increased their advantage to 14-9 by one win streak and, after that, ended the game with a 16-10 result.
The final was resumed on Inferno, which was Na'Vi's map choice. NiP prevailed in the pistol, but an explosive duo of s1mple and electronic led the team to win a force-buy — 1-1. Natus Vincere went ahead by a distance of four points, and then Ninjas in Pyjamas put an end to their losing streak thanks to GeT_RiGhT, who stopped an attack to the B site — 6-3. NiP rebuilt their economy and put up a fight in the first half that concluded with 8-7 on the scoreboard in favor of Natus Vincere.
The second half kicked off by electronic winning a 1v3 clutch that happened during a retake on B — 9-7. Going further, Na'Vi extended their lead to 12-7, and then NiP defended the C4 that was planted on the B side — 12-8. When the score was 12-10, Natus Vincere regained control on the game and, quickly enough, earned four rounds that they needed for the victory. Eventually, the CIS team closed the match out on a 16-12 mark.
The final results of BLAST Pro Series: Copenhagen:
• 1st place — Natus Vincere ($125,000)
• 2nd place — Ninjas in Pyjamas ($50,000)
• 3rd place — Astralis ($25,000)
• 4h place — FaZe Clan ($15,000)
• 5th place — Cloud9 ($10,000 + $20,000 for winning the BLAST Pro Stand-off)
• 6th place — MiBR ($5,000)

The HLTV's most valuable player of this tournament was Oleksandr "s1mple" Kostyliev. In the final, the Ukrainian superstar had a great showing that can be explained via his stats: 1.34 KDR, 48-31 K-D and 88.2 ADR.
The HLTV x betway MVP for #BLASTProSeries Copenhagen 2018 is @s1mpleO! pic.twitter.com/zBeXrvoFWi

— HLTV.org (@HLTVorg) November 3, 2018