Dota 2
May 18, 2017 15:10
Invitational S2: TNC Pro Team — the winner of Group «А»
The Filipinos from TNC Pro Team are the first participants of the Playoffs of the LAN-finals within SL i-League Invitational #2, prevailing over the Swedes from The Alliance in the winners' final of Group «А».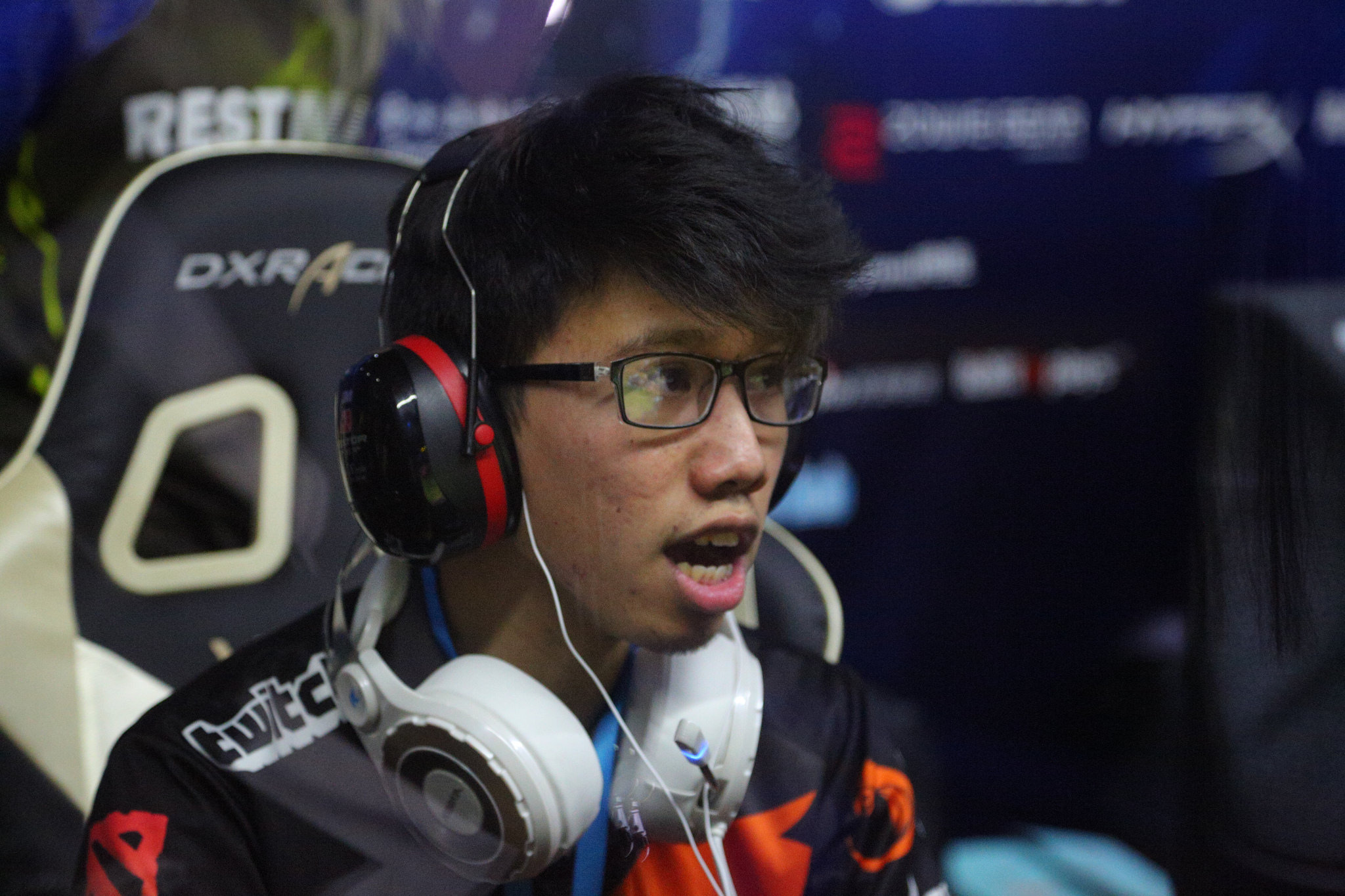 On the first map The Alliance made a good start: each of the core-heroes of the Swedish five was performing important kills. Especially should be pointed out Limmp on Lina, who overpowered the enemy's Templar Assassin on the laning-stage. Despite a win in the early game, Alliance failed to keep the same pace, as already on the 20th minute TNC Pro Team made a team-wipe nearby the Roshpit and completely played back a backlog from the rivals.
TNC moved ahead in a score and soon started making more damage in the team-fights than Alliance. On the 37th minute, the Swedes lost the barracks on the mid lane. TNC Pro Team failed to finish the game in a quick manner, so it reached the hyper-late.
The Alliance were a step aside from the final victory on the first map, but soon a misfortunate teamfight costed them a triumph. And already on the 68th minute TNC sent the enemy's heroes to the tavern twice and, despite the brave defense by Loda on Chaos Knight, destroyed the Alliance's base.
Results of the first map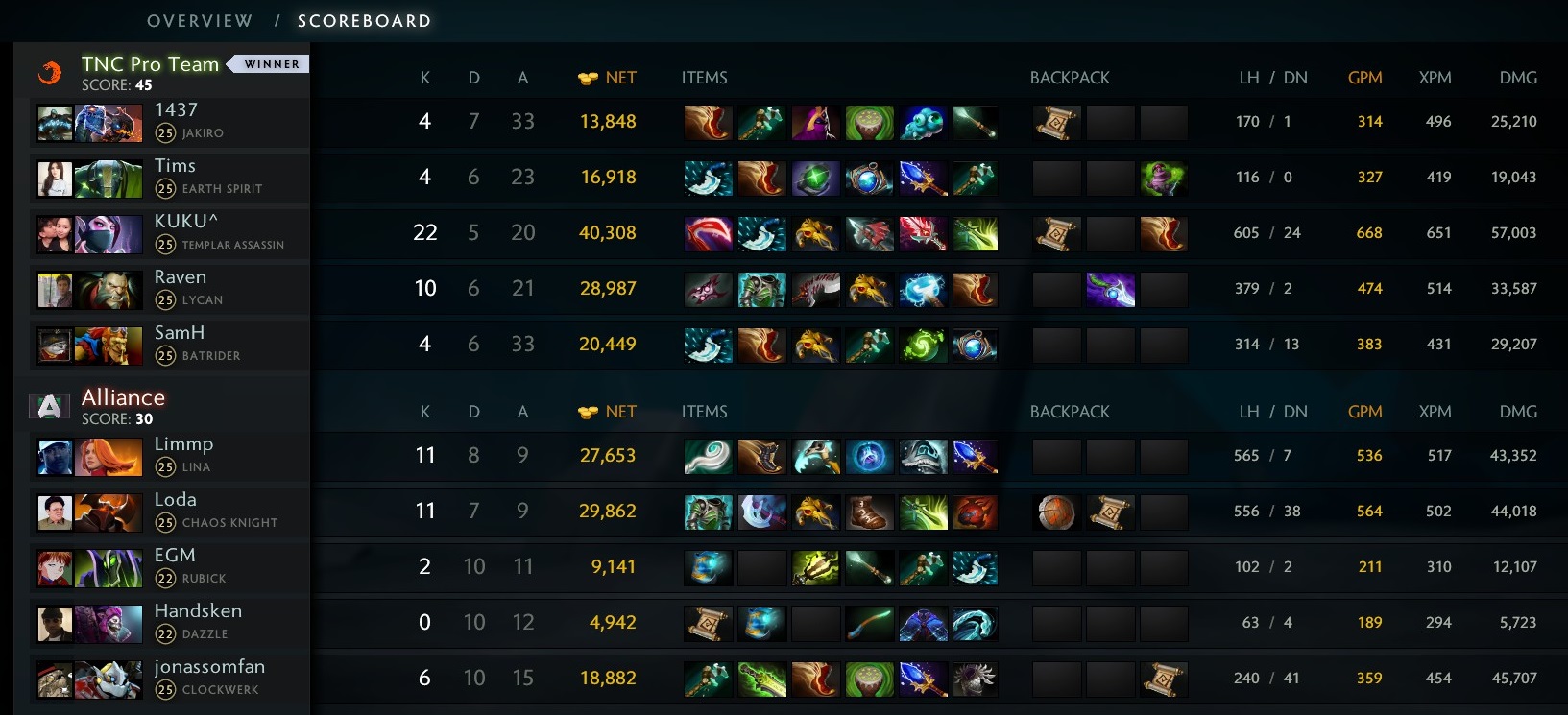 In the second game TNC started with an aggression. At first, Alliance were dealing with the pace being set, but after a loss in the first teamfight, they just lost heart: the Filipinos were dominating on the whole map and performing quick kills, getting an advantage in networth of 15 000.
The score-gap of TNC Pro Team from The Alliance was rising at every turn. Any attempt of the Swedes to get back on track was prevented by the players of TNC, who, after the demolition of two sides of the enemy's base picked up the Roshan and went for a final push, which was finished by the Alliance's annihilation.
Results of the second map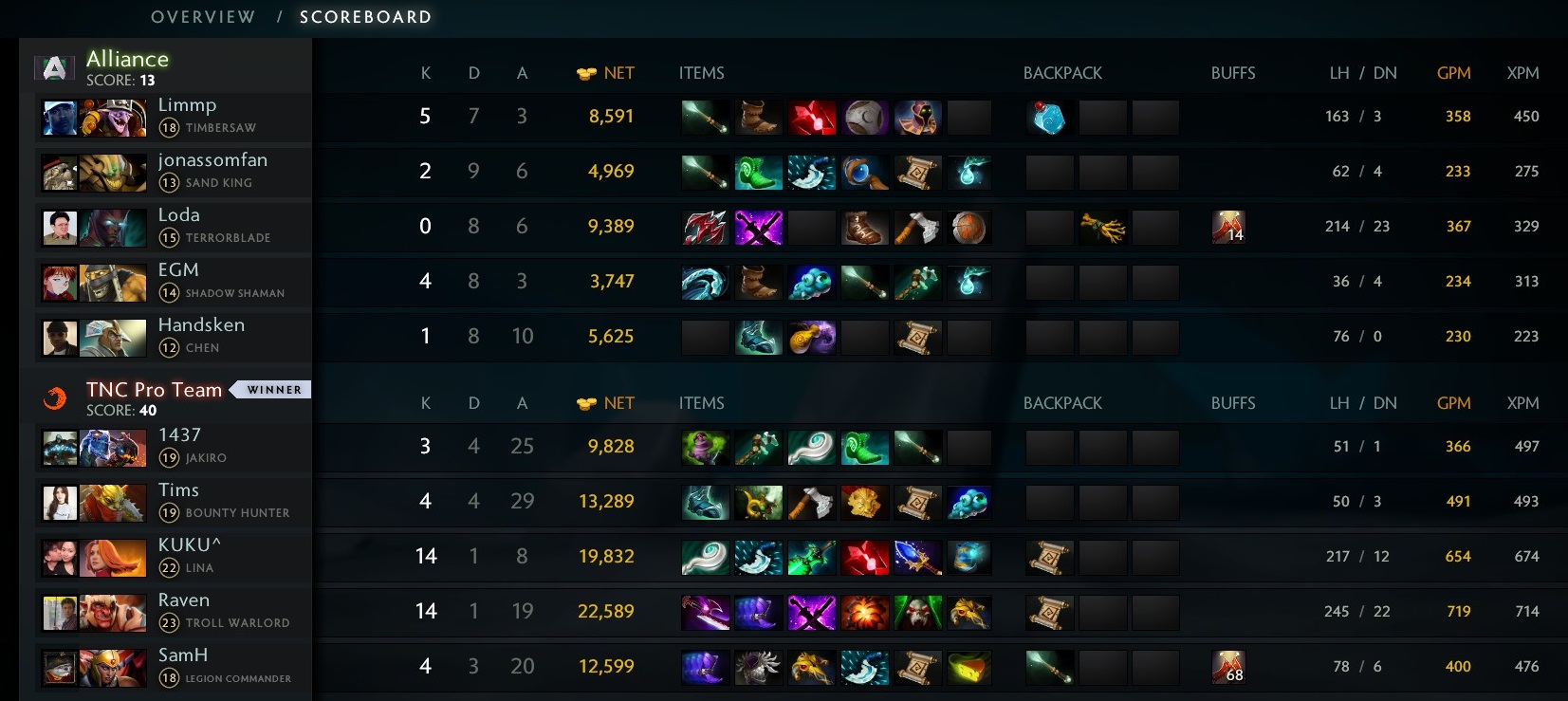 Eventually, TNC Pro Team secured a slot in the top-4 of SL i-League Dota 2 Invitational #2 and is awaiting the full results of the group stage, according to which will be defined their following rivals. In turn, The Alliance will play against the winner of a pair Invictus Gaming and Team VGJ for the second place in Group «А» and one more slot in the Playoffs.
You can follow the tide of events on SL i-League Invitational #2 on our Facebook page. The records of by-past matches may be discovered on our YouTube-channel Dota 2 StarLadder.