CS:GO
March 30, 2019 17:20
ENCE, MiBR, FaZe pick up victories on Day One of StarSeries i-League S7
The first day of the group stage at StarSeries i-League S7 has come to an end. MiBR, FaZe Clan, ENCE Esports and five more teams have got off to a good start by winning their opening matches, while the others have been defeated at the beginning of their journey in Shanghai, moving on to the 0-1 pool of the Swiss System.
ENCE Esports lived up to their status and took down Team Spirit, who played their first match on LAN after signing Leonid "chopper" Vishnyakov and Artem "iDISBALANCE" Egorov. The Finnish five got a 2-0 victory: 16-11 Nuke, 16-13 Dust II. In the parallel match, NRG Esports beat North 2-1, winning the third map Train 16-0. An amazing performance on the decider was shown by NRG's AWPer Cvetelin "CeRq" Dimitrov: 26-6 K-D, 100% KAST, 156.9 ADR, so it resulted in a massive 2.66 rate.
First wins were also earned by FaZe Clan and Renegades. As Ladislav "GuardiaN" Kovács missed the first day of the competition, FaZe had to play with their coach, Janko "YNk" Paunović. However, it was not a problem for the European team as they eventually won over paiN Gaming: 16-12 Inferno, 16-9 Mirage. In the other match, Renegades bested TYLOO without losing a map: 16-13 Inferno, 16-13 Dust II.
The Brazilians of MiBR were another team to get a successful start in Shanghai. Gabriel "FalleN" Toledo's squad crushed the Chinese five of Panda Gaming: 16-6 Mirage, 16-5. On the other hand, Sweden's "El Clásico" between Fnatic and Ninjas in Pyjamas was much more intense. FNC lost the first map Overpass 14-16, struggling a lot on the T-side and blowing up an 11-4 lead, but they played it back on the following two. NiP were defeated on Cache in the overtime, 16-19, and after that, they couldn't stop an enemy's comeback on Mirage, where Fnatic claimed the victory as the CTs, 16-14. The most resultative player of this series was Simon "twist" Eliasson: 1.24 HLTV KDR, 77-60 K-D, 88.3 ADR.
The main surprise of StarSeries i-League S7's Day One were ViCi Gaming, who managed to defeat Natus Vincere. The Chinese squad dismantled Na'Vi on Inferno and Nuke, 16-3 and 16-7, facing a loss only on the second map Train, 6-16. Even an MVP performance from Oleksandr "s1mple" Kostyliev with his 1.34 HLTV KDR (62-41 K-D) was not enough for the CIS lineup to turn the game in the opposite direction. The day ended with Team Vitality coming out on top as they defeated BIG with a 2-0 score: 16-11 Overpass, 16-8 Dust II.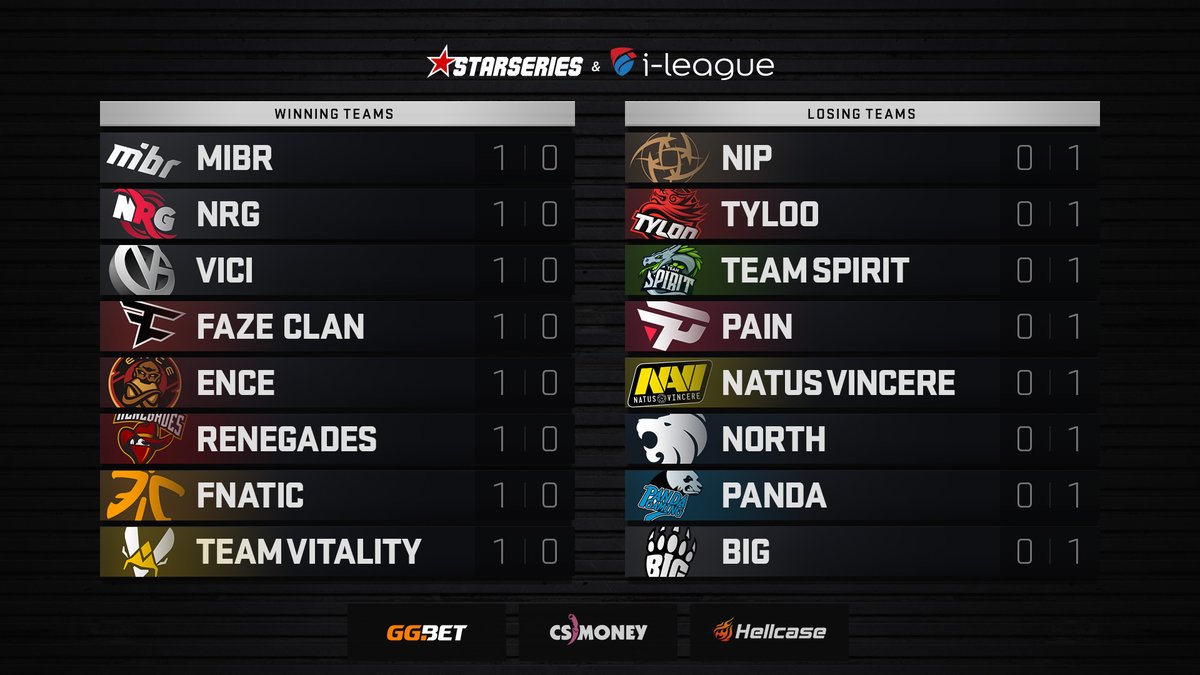 Schedule of the upcoming matches is available on our website. Subscribe to StarLadder CS:GO on Facebook and Twitter to follow all the news on StarSeries i-League S7!