CS:GO
July 16, 2017 23:24
Clear victory of Virtus.pro and Na'Vi's loss
Matches of the first gaming-day within PGL Major Krakow 2017 have reached the end, so now it's high time to sum up. This day was marked with the victory of Gambit and BIG, as well as with equal gaming by Natus Vincere and G2.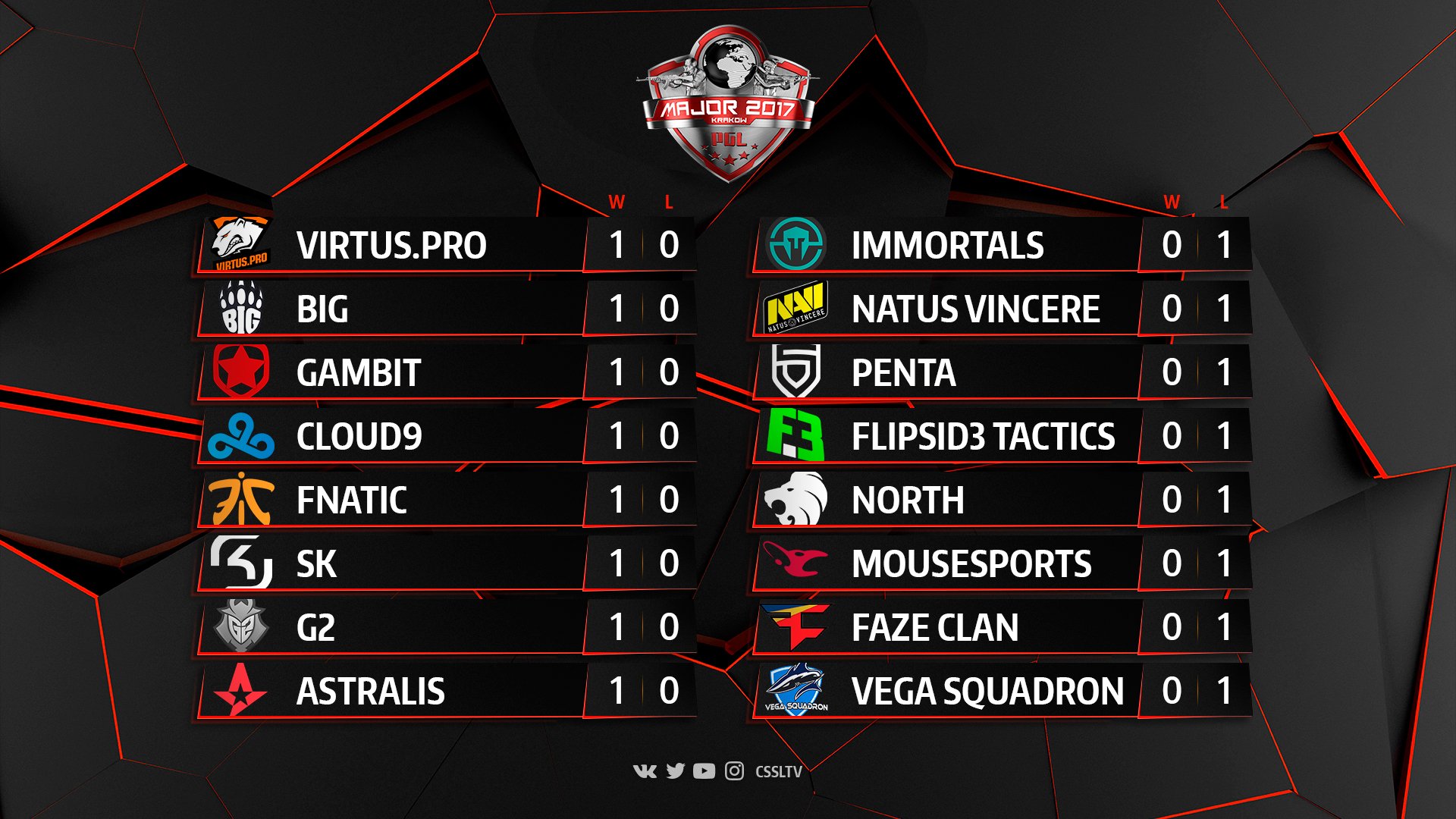 The final table of the first match-day
The first day of the Major in Krakow was set off with a match between Gambit and mousesports, victory in which was secured by Zeus and company 16-10.
1:0 yahoo, thanks guys who support us it was important to start like this😬🇰🇿! @mousesports GG mates.

— Rustem Telepov (@moucsgo) 16 июля 2017 г.
Following Gambit, the upper hand was gained by fnatic, who dealt with FlipSid3 [16:13], while Virtus.pro eased past Vega Squadron [16:2].
GG Vega Gl in next games boys , fingers crossed!

— VP TAZ (@g5taz) 16 июля 2017 г.
The first points at PGL Major Krakow 2017 were also secured by SK (16-13 vs PENTA), BIG (16-8 vs FaZe), Cloud9 (16-12 vs North), G2 (16-14 vs Na'Vi) and Astralis ( 19-17 vs Immortals).
Follow the news and announcements from PGL Major Krakow 2017 on our site and in socials - Facebook and Twitter. Subscribe to our YouTube-channel, where may be found all records of the by-past matches from the championship.