AGO Esports advance to StarSeries i-League's LAN-finals
The Polish five of AGO Esports prevailed over North in the semifinals of the European online-qualifier and earned a participant-spot in the fifth season of StarSeries i-League CS:GO.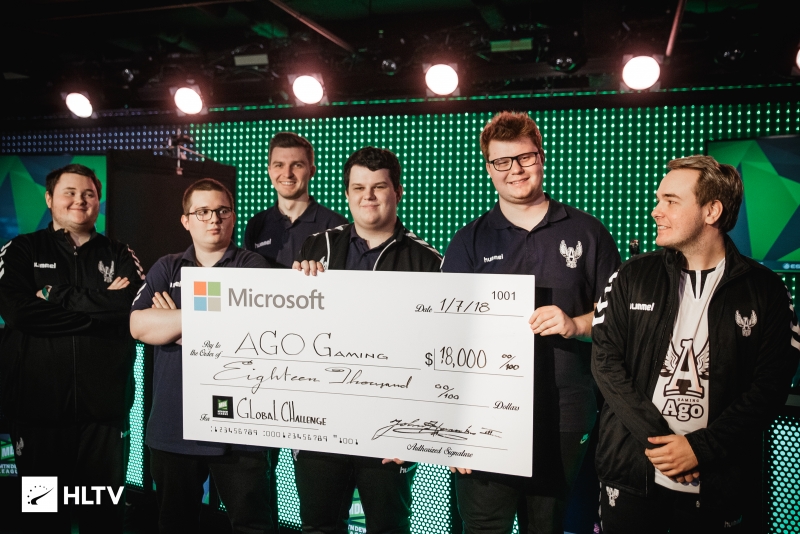 photo credit: HLTV.org
The game between AGO Esports and North for the ticket to the tournament in Kiev passed on three maps. AGO won enemy's map-pick Overpass with a 16-12 score, but, after that, they didn't won a single round on Inferno, that was chosen by them, and lost with a 0-16 result. Being on a roll, North took away the initiative back on Mirage, leading the way for the majority of the map. However, the Danes couldn't keep it up till the end of the match. Standing on the CT-side, the Poles played it back from 7-13 to 16-14 and knocked out the opponent from the qualifier.
Thus, North are going to miss StarSeries i-League CS:GO for a second season in a row. In the previous season, the Danish squad declined the invitation in order to concentrate on trainings with its new lineup, which was formed after the transfer of Markus "Kjaerbye" Kjærbye and Daniel "mertz" Mertz. After that, North had a chance to qualify for StarSeries i-League S5 through Bets.net Masters, but they were defeated by HellRaisers in the grand-finals back then.
In the last match of the EU-qualifier, AGO Esports faced off GODSENT, who got their spot after taking down Virtus.pro a day before. The Swedish squad won over the Poles with the score of 2-0, 16-10 Overpass and 16-11 Train, securing the seeding advantage for LAN-finals' stage.
Tickets to the final days of StarSeries i-League S5 in Palace Ukraine can be bought on concert.ua.
Series of the regional qualifiers for the new season of StarSeries i-League CS:GO will be finished in Asia. There, we will have one more pair of LAN-finalists determined.
The current list of StarSeries i-League CS:GO's participants consists of Team Liquid, mousesports, Natus Vincere, AGO Esports, GODSENT, NRG Esports, HellRaisers and AVANGAR. Overall, sixteen teams will be playing in the tournament. The event will be held from May 28 to June 3, and its prize-pool will amount to $300,000. Event's culmination will be Playoffs in Palace Ukraine. Tickets to StarSeries i-League S5 are available for purchase on concert.ua.